Tuesday, June 14th 2011, Seattle Washington USA- FYM found themselves inside the cozy Moore Theatre (our first time seeing a show at the historic venue), with Los Angeles California's
Dawes
opening a substantial evening of sonic endowment.
Dawes frontman Taylor Goldsmith (pictured above with brother Griffin in the background on drums) led an inspiring set Tuesday night, flaunting their latest jams (instant classics) off the bands remarkable new album
Nothing Is Wrong.
Drummer Griffin Goldsmith impressed us with his passionate facial expressions, well-excuted play, and strong/steady lead vocal duties on the triumphantly upbeat champion
How Far We've Come
.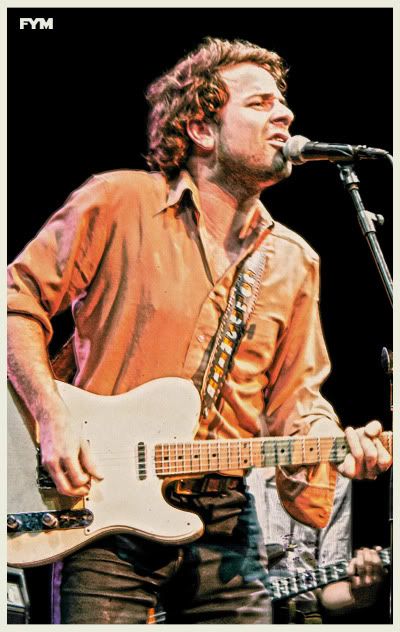 There is no question Taylor Goldsmith is a formidable storyteller/wordsmith. The new album-
Nothing Is Wrong
is an 11 track banquet of
thoughtful perspective, crafting well-versed snapshots, host to a cannery row of classic influences.
Goldsmith's spirit live- draws out the magic behind his lyrics that much more. Painting pictures through melodies- leaving FYM almost in tears , he carried us through the bittersweet narrative of
A Little Bit of Everything
featuring the amazing line:
I think that love is so much easier than you realize, If you can give yourself to someone, then you should.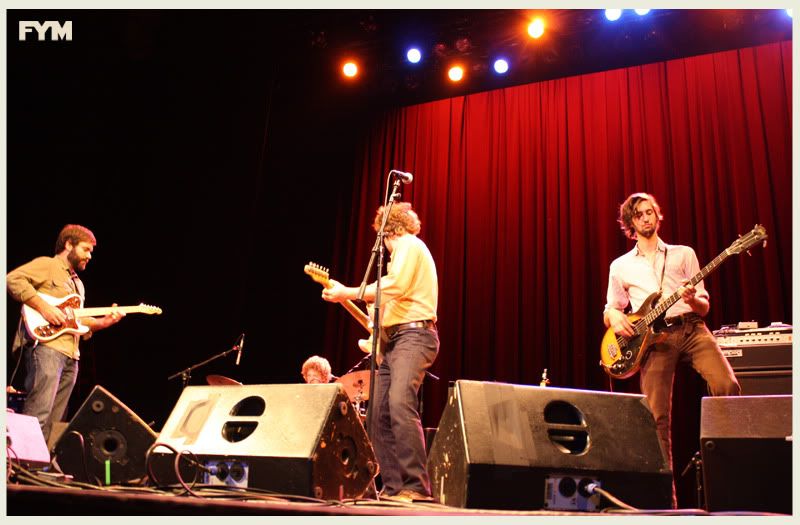 (Click On All Horizontal Images To Expand For Greater Detail)
Dawes as a band, evokes the warm resonance of
The Band
, the artful harmonies of CSNY, with the honesty of Springsteen. It was a privilege seeing this band live early into an assuredly long journey on the road in support of their sophomore release
Nothing Is Wrong
.
It's also worth mentioning that Dawes can play well even under the strange circumstances (their gear happened to be in a different city that night) having to use main act- Brett Dennen's instruments the entire set. Our only dismay was the absence of
My Way Back Home
from their setlist (our favorite track off the new album). But shimmering renditions of
Coming
Back to a Man, Moon in the Water, Time Spent in Los Angeles,
and their most notable hit off their first album-
When My Time Comes
, aided in the well-deserved standing ovation the band was given by the crowd after their incredible set.
Fellow Californian, and all around peaceful soul- Brett Dennen over the years has continually impressed us with his amazing perspectives on life, as found in our favorite tune of his Heaven (is there home for the homeless, is there hope for the hopeless).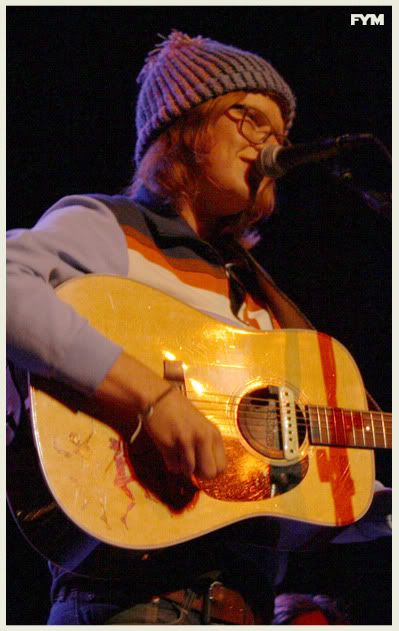 As soon as he took stage, Dennen and his solid backing band, projected kinetic joyful vibes, perfectly balanced by his sui generis vocal prowess. Unlike another singer/songwriter (Ryan Adams) we've seen live in a theatre setting, Dennen embraced his audience, urging them to stand up out of their seats and have a goodtime!
Dennen's signature hip-shaking stage presence live is infectious. Fans in the crowd ran the entire age spectrum, (kids, teens, parents, grandparents) filled the aisles of the Moore dancing to his summer-ready grooves.
Check out his latest release Loverboy
HERE
. Dawes and Brett Dennen finish out their tour together in Oakland California at the end of this month, for full dates click
HERE
. This is a must see tour for lovers of good music and refreshing, inspiring takes on life. Cheers, FYM.
Thoughts. Graphics. Photos. J Thomas Codling.