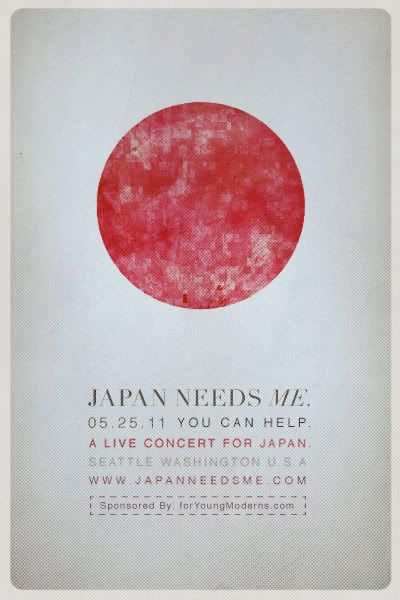 Y
ou may have noticed FYM posting came to a halt last Friday, and that's because the forYoungModerns.com Staff has been working diligently planning a Japan Benefit Concert in Seattle at the end of May. Today, we are proud to announce the launch of
JapanNeedsMe.com
! Although the site is not 100% complete yet (our Art Director still needs to post the side-bar content) we wanted to get it up as soon as possible, in order to promote promote promote. Everything should be up and running one hundred percent by this Friday.
Each Band playing the Funhouse in Seattle May 25th in support of the forYoungModerns.com- Japan Needs Me Benefit, will be performing a Japan
themed
pop song. One of FYM's personal favorites
Big in Japan
By Alphaville, happens to be the Jam of the Day for Young Moderns. The band Alphaville itself, has seen a resurgence in popularity, after their hit Forever Young was sampled by Jay-Z last year.
Big in Japan
was the bands debut single off their only album that mattered. Enjoy the tune, and please visit JapanNeedsMe.com for more details on this FYM sponsored event! Cheers.