In our humble opinion vintage Wilco, with Jeff Tweedy and Jay Bennett together, was Wilco at their best. After gaining commercial momentum from 1996's masterpiece double-disc Being There (a personal favorite) the band found themselves with a bit more money aiming for a big breakthrough record with 1999's Summerteeth.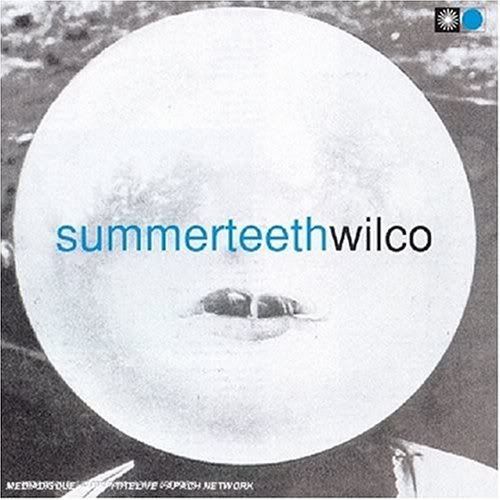 The original sessions were recorded in Texas at Willie Nelson's space in Spicewood. Tweedy was reportedly down in it, the darkness that is- missing his family and being away on tour (hence the somber vibe throughout the record). And depressed Jeff Tweedy equals Wilco lyrical perfection. After putting the album on the back burner to collaborate with Billy Bragg, ultimately releasing Mermaid Avenue, the band went back into the studio, this time in Chicago, where Jay Bennett stepped up to try some new production techniques. Using overdubs in Pro Tools (a first for Wilco) Summerteeth's production suddenly moved up a notch, delivering a quality album on a grander scale. After experiencing Summerteeth, the listener can pick up on all the beautiful production subtleties, and really appreciate the direction they were moving towards before recording their finest record, Yankee Hotel Foxtrot.



Today's Jam of the Day comes from the above mentioned album, and it's called How to Fight Loneliness. It's a shimmering tex-mex acoustic floater. Bennett's effortless organ/keyboard parts- paired with Tweedy's seemingly earnest lyrics take us on a sublime journey championing doleful sonic valleys (like a warm blanket filled with depression). It's the perfect comfort track/album to play on a grey Friday afternoon, alone, while your wife fly's across country to visit her sister (and sister's new baby). So how do you fight loneliness? See Tweedy's lyrics below. Cheers, FYM :o)
Thoughts. Graphic. J Thomas Codling.
LYRICS:
How to fight loneliness, Smile all the time. Shine your teeth to meaningless, And sharpen them with lies. And whatever is going down, Will you follow around, That's how you fight loneliness. You laugh at every joke, Drag your blanket blindly, Fill your heart with smoke. And the first thing that you want, Will be the last thing you'll ever need That's how you fight it. Just smile all the time, Just smile all the time, Just smile all the time, Just smile all the time.