H
oly Ghost! opened an unforgettable evening at The Regency Ballroom over the weekend. It's possibly one of the most beautiful venues I have ever attended, and could be considered a larger version of the neighboring Great American Music Hall. The gentlemen in Holy Ghost! based out of New York City, did a perfect job warming up the crowd while playing their single "I Will Come Back" - getting everyone ready for the dance party that was to come.
Having big tours with breaking artists such as, Chromeo and Cut Copy, seems to be giving Holy Ghost! excellent road experience. They'll easily be headlining six months from now, as their self-titled album Holy Ghost! spreads across the country, and through the hipster discos.
Cut Copy emerged on stage through a massive door that seemed nice and simple, but ended up being the talk of the night. Lights immediately illuminated The Regency Ballroom, with all the chandeliers in the venue glowing. Singer Dan Whitford, came off as a conductor, he told the crowd to jump, clap, sing -and that's exactly what they did.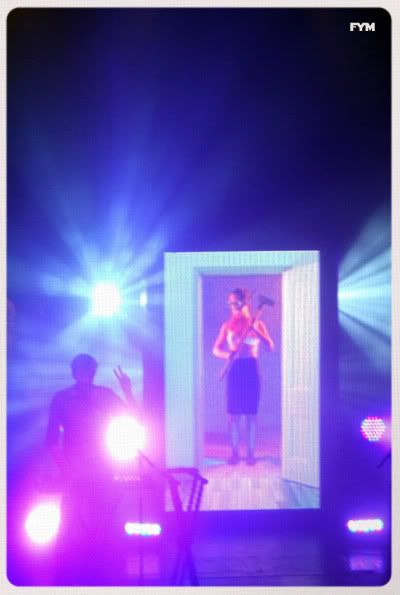 With the retirement of LCD Soundsystem at NYC's Madison Square Garden (earlier this month), it left fans scratching their heads on what to do next.
Cut Copy does a solid job filling the void of an incredible live show packed with lights and perfectly formed dance/disco/jam music. Near the end of the set, the frame of the door that they entered through started to light up. The door itself, then turned into a video screen.
Cut Copy ultimately left stage drenched in sweat, leaving the crowd on cloud nine. Thankfully Cut Copy played 2 shows in San Francisco, and with both shows selling out, FYM hopes they'll be back sooner than later.
Cheers, FYM.
Graphic. J Thomas Codling