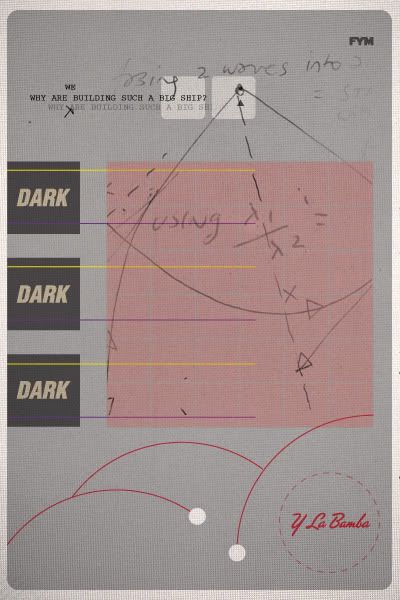 FYM Editors Note: Unlike typical reviews, this one is told from the perspective of friendship and the magic of discovering new bands, by way of a strange series of events and Midwest connections.
L
ast week FYM's favorite free spirit (and dear college friend, yes he's that cool to mention) from Minneapolis Minnesota, Eddie Kijowski, phoned in he was touring as the merch dude for Dark Dark Dark and would be in Seattle (FYM HQ) on April 20th 2011. A few days later our paths crossed on a hazy afternoon in Ballard at a bar near the Tractor Tavern (where Dark Dark Dark was playing that evening). Eddie had been on the road for a while now (which can get pretty tiresome), we couldn't help but appreciate how joyful he was tagging along with this particular band. We asked Eddie to describe Dark Dark Dark's sound, and he said they make
pretty music
. So it goes.
A few drinks later we found ourselves on a night out with an old friend visiting the only Minnesota themed restaurant in Seattle (
Zayda Buddy's
). One fried burger covered in gravy later (Eddies choice), FYM headed over to the Tractor Tavern (a beautiful organic venue with tall ceilings and exposed brick) for a night of unexpected sonic pleasantries.
Why Are We Building Such A Big Ship? opened the evening with an inspiring set, sharing a sound that encapsulates the gloomy yet hopeful specter of Americas most kinetic city, New Orleans. Why Are We Building Such A Big Ship? live, delivers the body shaking energy of a great punk band fused with brassy dark Cajun anthems.
The band features a talented group of individuals playing a myriad of instruments, woven together by formidable lead vocals. FYM hasn't been so awstruck by a male lead singers vocal prowess since Spencer Krug (Wolf Parade, Sunset Rubdown). Check out FYM's live recording of Release The Kraken, Live at the Tractor Tavern in Seattle USA.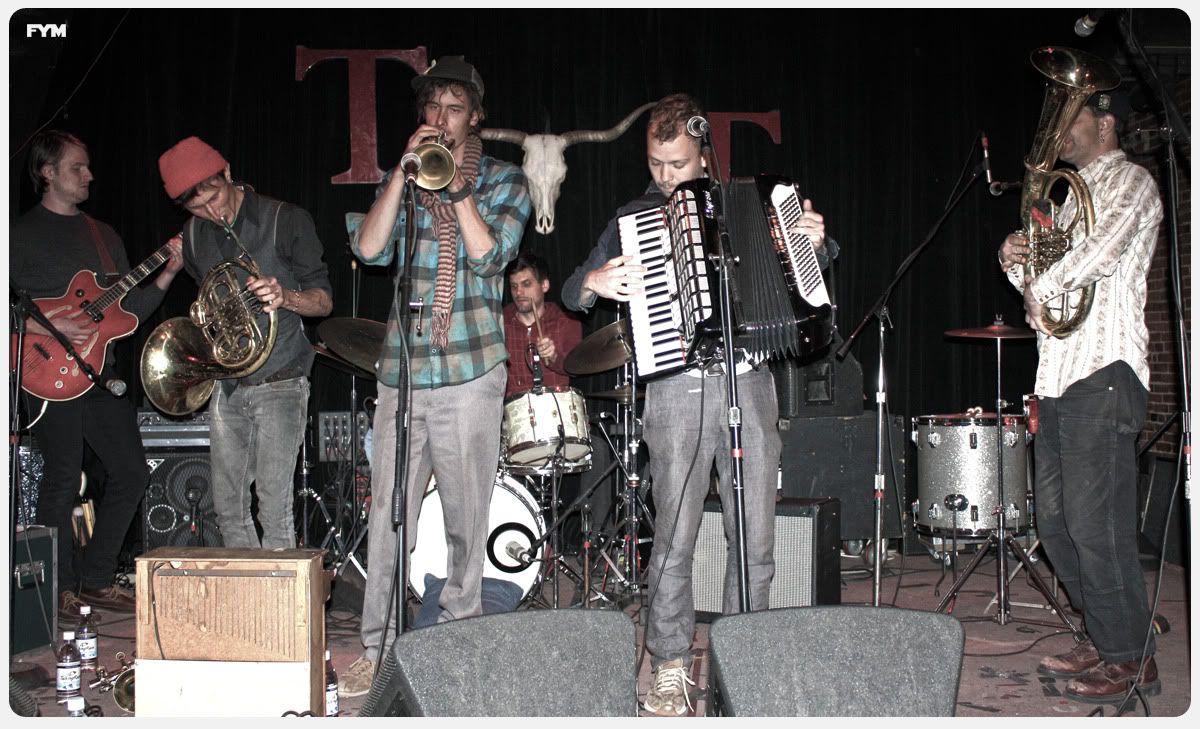 (Click Image To Expand For Detail)
Their baroque raw energy continued to make us smile the entire show, and Why Are We Building Such A Big Ship? is a for Young Moderns must see live/listen on vinyl. Listen Below:
The grand evening of lush avant garde vibrations continued with Portland's Y La Bamba. There is no question this band makes beautiful music carried by impressive soaring harmonies and Northwest signature sonic flourishes.
But lead singer Luzelena Mendoza's energy on stage is so dizzying that you end up forgetting about the rest of the band (who unfortunately become the out of focus guys). Regardless, Y La Bamba's set was perfect, and a great compliment to the night as a whole. Listen Below:
And finally our night ended on an incredible note, the whole reason why we came, to support Eddie and his friends Dark Dark Dark. Eddie introduced FYM to Marshall LaCount of Dark Dark Dark before the show, he was a kind gentleman who stood beside us in the crowd watching Why Are You Building Such A Big Ship? -Little did we know what a numinous experience seeing Dark Dark Dark live truly is.
Lead singer, Nona Marie Invie's voice will make you tremble with uncomfortable joy running through your veins. Her voice is so beautiful it almost hurts to listen to because it is such an emotional experience.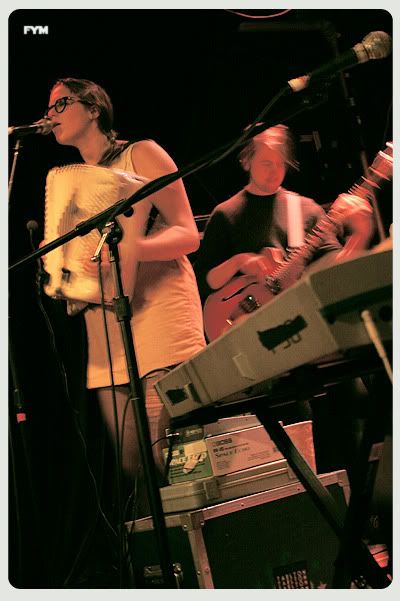 Dark Dark Dark is one of those special bands that can take the listener into a higher state of consciousness and self-awareness (ladies and gentlemen we are floating in space type of stuff).
(Click Image To Expand For Detail)
We could hear words being sung throughout the set, but it was the peerless emotional connection the band made with their audience which ultimately created an unforgettable hypnotic evening. Dark Dark Dark's beauty is perfect for dreary days in Seattle. Listen Below:
Thoughts. Photos. Graphic. J Thomas Codling