Editors Note: FYM Fashion Icon, photographer and Seattle media correspondent, Edwin L Ross III, recently attended the Ellie Goulding concert live at Neumos in Seattle USA. The following is his prespective on how the evening went. Enjoy Mr. Ross, along with live video and amazing photos of the night! Cheers, FYM.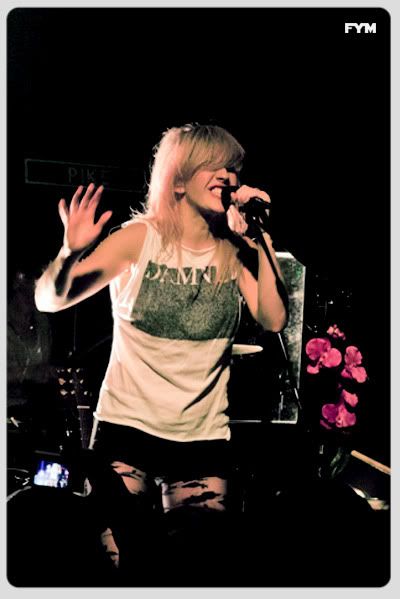 Franz (the Emerson Salon Manager) and I arrive at Neumos. After coat check, and a couple five hour energy drinks (yes they do work) we headed down to the crowd. Eagerly awaiting as Neumos set up for Ellie Goulding- Suddenly the crowd parts as a girl has fainted. Her friend saves the day and carries her out. Then everyone quickly fills the gap. We got a bit closer to the stage in result.
Ellie Goulding comes on the stage and the audience freaks out as she bursts into song. Her voice was powerful and whimsical. There wasn't any auto-tune in here folks (like some other pop singers crutch on). She took you right into the song with such a dynamic voice. Even during the slower sad songs she kept everyone's energy up.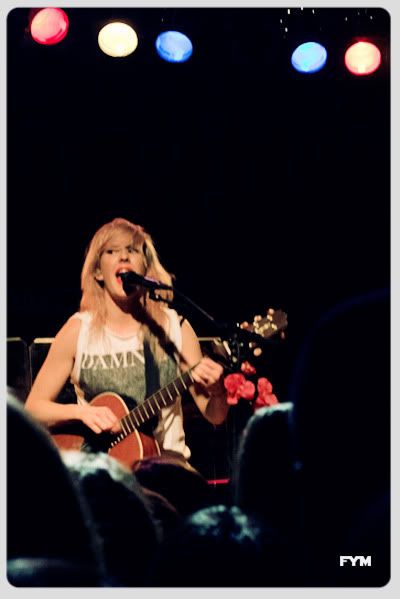 Ellie Goulding made sure to personally connect with crowd between the songs by talking with us. Even telling some funny stories from her tour, and explained the meaning behind some of her favorite tunes. Miss Goulding and her band exit the stage as if it is the end. But the crowd starts chanting her name.
They come back and do two more songs for us. The last song was her biggest hit Starry Eyed. The crowd went wild, everyone started to jump around and dance, we were electrified.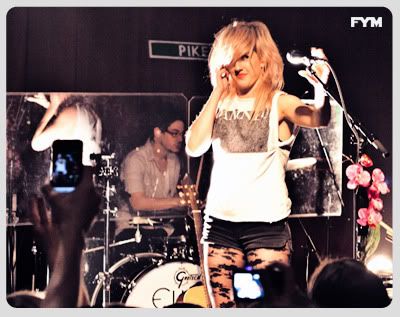 Throughout the whole show Ellie Goulding had great stage presence, jumping around and moving along to her songs. The energy was amazing as everyone sang along to her latest album Lights (there's a reason why it's a #1 album in the UK). Franz and I had to buy some t-shirts and CDs so we could meet her to get them autographed. We waited in line, a long line, talking with people while preparing to meet her. It was finally Franz's turn. I wanted to get a photograph with her so I was explaining to the girl behind us how to use my camera, when I here "strange child."
Ellie Goulding was gesturing me over to her by calling me "strange child," thanks Franz. We took the photograph then I got to meet her as she autographed my CD. She is a sweetheart. Ellie Goulding is a cute little English girl. Her fashion choice for the night was a baggy rocker tee with the sleeves cut off and bright lips!
This is Ellie Gouldings first US Tour and she is making it count (Check Out her website:
http://us.elliegoulding.com
). Thank you to Ellie for connecting with her fans, a wonderful performance, and making a night out with Franz one to remember!
Edwin L Ross III
Graphic By: Art Director J. Thomas Codling