(Words/Graphics/Photos: Jesse Codling)
Earlier this week
Free Energy (
DFA Records)
hosted a fantastic evening of sonic pageantry at one of our favorite local venues in Seattle (The Crocodile). They fused together a fresh set featuring impressive new tunes, old favorites, and a stellar true-to-form cover of Tom Petty's
I Won't Back Down
.
Lead singer Paul Sprangers sported an impressive new addition (mustache) since FYM last caught
Free Energy
in November. Sprangers kindly attributed drummer Nick Shuminsky, for starting the facial hair fad in the band.
(Click Image to Expand)
The late-arriving, yet extremely entertaining audience were indeed ready to party on a Tuesday night in Seattle.
Free Energy
seemed to play that much harder with smiles on their faces, as the wild flannel-clad, head-banging, pogo-dancing audience put on a clinic of formidable dance moves.
(Click image to Expand)
Guitarist Geoff Bucknam (pictured above) seemed to harness the roving stage presence of Keith Richards this evening, as his counterpart, Scott Wells (pictured below) took center-stage throughout their set showcasing his rapid-fire guitar solo prowess.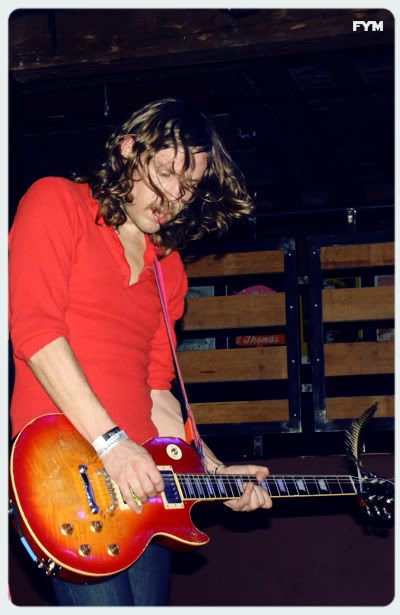 Free Energy
yet again, refreshed our spirits with vibrant tunes, whose full potential can only be realized once you see these guys live! The inspiring
Hope Child,
closed the initial set with a bang. But the audience refused to part, with overwhelming crowd encouragement the band had to come back for an encore!
Free Energy
even obliged this Art Director's encore song request, playing our favorite tune
Psychic Lighting
! We thank them for never disappointing us live. (Check out the set-list we snagged below)
But let us not forget the first band of the night,
The Postelles
. Unfortunately the crowd was still trickling in as the band took stage Tuesday. But what the others missed, FYM was throughly impressed by.
These well-dressed New Yorkers, play light-hearted catchy rockers (generic comparison: think if The Kooks were from America).
The Postelles
sound is a diverse pop appropriation of contemporary
rock around the clock
ambience, featuring a bevy of nostalgic influences (the origins of rock and roll).
(Click image to Expand)
Like Free Energy,
The Postelles
also worked an astounding cover into their set (Elvis Presley's
Hound Dog)
. Lead Singer Daniel Balk has a great voice, that sounds just as good live as it does on record. He is backed by quality guitar work from David Dargahi, and steady beats from the rhythm section.
(Click image to Expand)
FYM was so impressed by the band, that our security guard (Emily C.) even bought their self-titled major label debut (capitol/astralwerks), from the merch booth after the show.
Cheers, to both bands for giving the FYM crew an amazing evening we're still smiling about. See below for bonus photos from Free Energy, Live in Seattle:
(Click image to Expand)
(Click image to Expand)
(Click image to Expand)