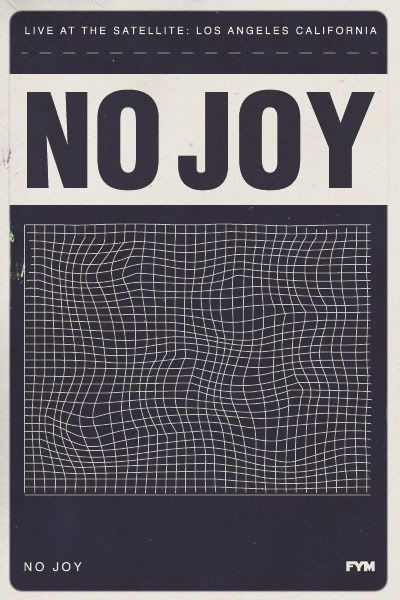 Montreal's
No Joy
hit Los Angeles' The Satellite (formerly/concurrently known as Spaceland) and left a roomful of attendees of the Silverlake venue with ringing ears while drenched in guitar feedback.
The foursome, led by guitarists/singers
Laura Lloyd
and Jasmine White-Glutz, are touring in support of their debut album
Ghost Blonde
,
which is out now
on
Mexican Summer
(who have had a hell of a year, by the way. Give your A&R team a raise!). Check out the album on Mexican Summer's shop by clicking
HERE
. Ghost Blonde definitely seems like one of those albums that was just made to be played on vinyl.
No Joy's expansive sound is a musical Venn diagram that intersects several of the most power genres of indie rock: shoegaze, noise rock, psychedelia. Like shoegaze pioneers My Bloody Valentine before them, gorgeous melodies can often be found somewhere in the haze of guitar noise. Then, on songs like Ghost Blonde highlight "Hawaii", the band prove they can also get aggressive and show their teeth, coming off energized and sexy, not unlike Kim Gordon.
Listen below to FYM favorite "Indigo Child", in which the band manages to capture the alluring mysteriousness of 80's Sonic Youth while delivering an undeniably hypnotic vocal melody:
No Joy is currently on tour with Mexican Summer labelmates Best Coast and Best Coast mate Wavves; easily one of the best lineups for a tour you'll see all year. The three bands are rolling through the South right now, dealing with nosy Texan cops and unfortunate van accidents (the road is tough!), but they hit the Midwest and eventually the West Coast come mid February. Those dates are listed below. Show up early for No Joy!
Words/Photo: Will Sellers Graphic: Jesse Codling
Best Coast / Wavves / No Joy
:
February 12: Obama, NE (Waiting Room)
February 14: Boulder, CO (Fox Theater)
February 15: Salt Lake City, UT (Urban Lounge)
February 17: Vancouver, BC (The Rickshaw Theater)
February 18: Victoria, BC (Sugar)
February 19: Portland, OR (The Hawthorne Theater)