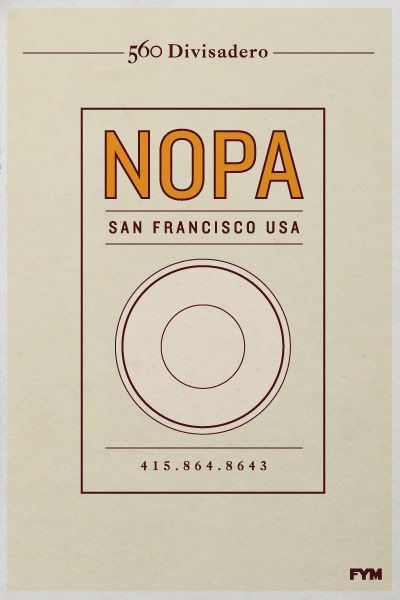 (Editors Note: FYM Publicist Nick 'may I have seconds' Codling also happens to be a devout San Francisco Foodie. Here's Nick, and his weekly pick of the best food/spot in San Francisco.)
Dining at
NOPA
,
a San Francisco Gathering Place
, has been on FYM's to do list for quite awhile. Last week we finally had a break from traveling, and jumped at the chance to take in what NOPA had to offer.
Testing out their happy hour, sitting bar-side, looking over the menu, FYM decided to try the most infamous childhood food faux pas, brussels sprouts! (if they could do this right.. then we're on to something) These brussels sprouts (pictured) were perfectly fried with a savory breadcrumb trail, topped with lemon juice adding a nice balance to the flavor. What stood out to us, is that NOPA (even on the most simplistic of dishes) went above and beyond on flavor! It was a well-done treat, that accompanied the delish fish and chips with sherry vinegar we had, both of which are featured in NOPA's happy hour menu (Available Monday-Friday at the bar from 5:00-6:00pm) Check out their
SNACKS
menu for more options.
Drink-wise, we managed to try a Blood and Sand (a Spartacus drink reference!?) which has scotch, sweet vermouth, orange juice, and cherry herring, it was a solid choice that any forYoungModern follower can't pass up.
Drinks averaged between $8.00-$9.00 (pretty standard) and the
snacks
ranged from $3.00-$4.00- so even if you're on a budget you still can get reasonable deals. Make sure to head on over to NOPA and get your eat and drink on asap (they boast an entire menu, full of organically fired, urban/rustic cuisine). forYoungModerns first experience partaking in the true test (happy hour specials) was delightful and makes us yearn to come again, and stay for dinner. But for now, we toast!
Cheers to NOPA for delivering everything a respectable establishment should.
FYM,
Nick Codling