Last week in Los Angeles, Colin Stetson, who tours as Arcade Fire's one-man horn section and has done extensive work as a solo artist and studio musician, opened up at The Shrine Auditorium for his Quebecer musical family.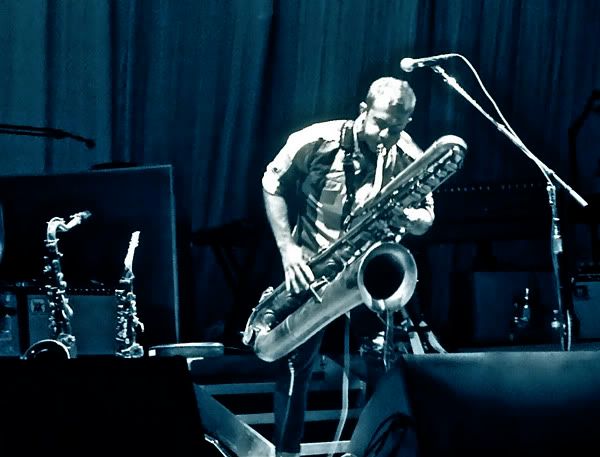 Stetson played his avant garde meets moody jazz saxophone for the still-trickling-in Los Angeles crowd, many of which probably didn't even know he was opening, for about half an hour. Playing music as abstract as Stetson's for any amount of time is a relatively tough sell for a crowd in Los Angeles, the city that runs on short attention spans, who are there waiting to hear a popular rock band. But Stetson's music was intriguing enough to easily win over the crowd. The crowd seeing how physically taxing each individual song seemed (Stetson was usually sweaty, panting, and sometimes looked on the verge of collapse after every song) might have earned him both well-deserved pity cheers and genuine awe-inspired applause.
Along the course of his set, Stetson dedicated songs to his father, his significant other back home, and revealed, after a crowd member had politely asked him, that his signature monstrous (in both sound and vision) bass saxophone was made in Elkhart, Indiana in 1908. The pieces of music coming from his bass saxophone captivated the crowd the most, as the immense instrument produced an almost otherworldly collection of sounds ranging from the deepest horn vibes to phantom percussion (only a minimal amount of which was made using a clicking method via his mouth). With eyes closed, it wasn't difficult to imagine an array of musicians on stage.
Check out a quick sample of Colin's set last week in Los Angeles:
Colin was kind enough to grant us a quick pre-performance interview backstage at The Shrine inside his dressing room that we both noted was comically dank for a place that hosted the Academy Awards for many decades:
For Young Moderns: On this stretch of the tour, you're doing double duty by opening for Arcade Fire solo, and then playing with Arcade Fire during several songs during their set. Do you find these kinds of nights more taxing than others?
Colin Stetson: Playing with Arcade Fire isn't difficult because it's just a little bit here and here, but any time I play my solo stuff it's taxing. Playing the bass saxophone during my solo set is incredibly exhausting but also invigorating.
FYM: The bass sax is the instrument that usually gets the most "oohs and ahs" during your live set. Have you been playing the bass sax the longest?
CS: I started with the alto sax when I was ten years old, gradually picking up the others. I've only had the bass sax for only about the last five years or so.
FYM: The bass saxophone sometimes almost has a similar feel to that of a very down-tuned heavy metal guitar. Any chance you grew up listening to metal or any other kind of music that people may be surprised you listen to?
CS: Actually, where I came from, or more where I come from, I do listen to metal. And yeah, I mean sure, I grew up on a lot of classic rock. Hendrix. A lot of Hendrix. Beatles, some Jethro Tull, Queen, and later on I was into Michael Jackson. But through the years, I've really just kind of explored everything that I can get my hands onto. I do listen to some black metal now and drone. Bands like Sun O))).
FYM: You recently released your first full-length album, New History Warfare Volume 1, and New History Warfare Volume 2 follows early next year. "Warfare" seems like a apt word to use to describe your more fervent avant garde pieces. What's the story behind behind the intense titles of the albums?
CS: Well, I was having a really extreme day and it seemed to me that it was a really exciting way to put into words the notion of actively pursuing a tangible effect on your present day. So, the idea of your life actually meaning something happens when you take these very clear steps toward making it something. "New history" is the idea that we are all carving out what will one day be our own histories, obviously. And "warfare" being the fact that even the mundane daily routine can sometimes be described as such.
FYM: What was your experience preforming at Obama campaign rallies in 2008? How were performing at those rallies different from performing at regular "rock" shows like tonight? Did you feel any kind of extra pressure or less pressure at those shows than regular shows?
CS: I don't think it was very different. I mean, it was a really exciting time for all of us and I was really happy to be a part of that. But it turns out that the audience you're playing for is basically the same that would be played for at any show I'm a part of. Whenever I'm opening up for a rock band, then they're usually not there to see me. It's always a bit of a weird surprise. Like... Hello! ta da! Didn't expect me, did you?! [laughs]
FYM: What about the difference playing a rock show versus playing more of a jazz show? Are there any rituals you go through before playing one or the other?
CS: Well, you know, the music that I'll play will be slightly different and usually when I'm playing for a jazz audience, the songs I play I will stretch out in regards to song length because that's what they're there for. I'll definitely play the music that's more abstract that's not really dealing with song structure. But for shows like tonight, I will just pick a few songs that are all just very tight and song structure-friendly.
FYM: I happen to be a really huge Tom Waits fan and read that you've worked with him in the past. What kind of stuff did you do with him?
CS: It was a while back, but I recorded a few records. I recorded a few of the horns and woodwinds for Alice, Blood Money, and on some songs that were on Orphans.
FYM: Did you do the horns that were on Blood Money's "Knife Chase"? Those are some of the best horns I've ever heard recorded.
CS: Yes, but that wasn't entirely me though. There was another musician [Bebe Risenfors] who did the main hook. Myself and Ara Anderson came in and laid down other horns over the main riff and all the recordings were cut up then put all together again later on.
("Knife Chase" by Tom Waits)
FYM: You played for the National Shrine of St. Francis Assisi in San Francisco. How did that work out?
CS: Yes, it was this gorgeous, gorgeous space that is still one of my favorite places to play. I ended up playing there for several Easter ceremonies. It came about because a friend of mine was curating these Sunday shows that they would have there and he asked me if I wanted to do one on my own. I said yes and didn't even realize it was Easter sunday until the day it happened.
FYM: What kind of audience was it?
CS: The audience ended up being people who would just come for the show and then also people who are just there to pray and also tourists who were just coming in and out because it's such a famous place in San Francisco. And then the monks making their rounds during the protocol of their day. It was initially really intimidating because I was thinking how weird it was to just be there. But then afterward the monks were definitely really into it which was cool.
FYM: Are there any artists you'd love to work with in the future or any you recently have?
CS: I just started work on the new Bon Iver record and I'm going to be working with them in the coming years. I love Justin [Vernon] and his music, so now being integrated into his music has been pretty awesome. Of course, there are so many people I would love to work with. I always say a few of the same people but Radiohead has always been a huge inspiration to me and I'd love to do something with them. Bjork is another major one too.
Colin Stetson's album,
New History Warfare Volume 1
, is out now and can be found by
clicking HERE
.
New History Warfare Volume 2 is due out early 2011.
A collection of Colin Stetson MP3s are available for free download on his website (
found HERE
). Please be sure to check them out if you don't mind having your mind healthily blown every now and then.