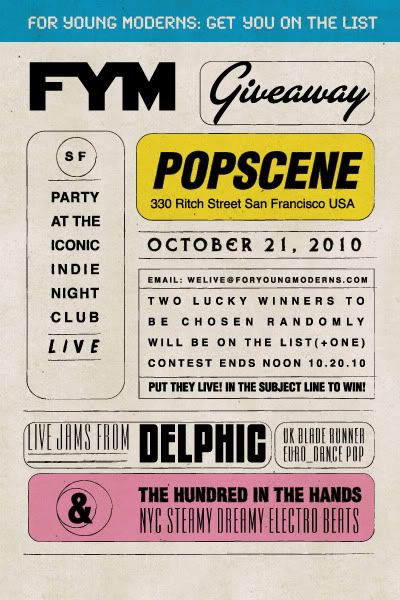 You asked, and FYM heard, we are proud to present the
FYM ON THE LIST GIVEAWAY.
Our friends at San Francisco's Premier Indie-Nightclub
PopScene
(Where FYM saw one of our top Five shows of all time: Phoenix on their first US tour) has given us the power to treat you (like they treat us) on the list.
Email us at
welive@forYoungModerns.com
with THEY LIVE! in the subject line (including your first + last name), and we will randomly select two winners to be on the list (+ one) for Thursday October 21, 2010 (contest ends NOON 10.20.10) with live performances from
DELPHIC
(UK Blade Runner, Euro_Dance Pop) and THE HUNDRED IN THE HANDS (NYC Steamy Dreamy Electro Beats).
This night will be another must see dance party at PopScene. UK's
Delphic
have been blazing up the internets with buzz-worthy talk of their epic live performances.
Doubt
is prime example of Delphic's blend of kinetic dance-pop introspection.
AND as you enjoy a night out partying, NYC's
The Hundred In The Hands
will provide steamy sonic offerings, personifying electric opulence, keeping your body sweating to its inner metronome. Check out
Pigeons,
THITH's spacey jam
-that
cuts no corners when delivering party friendly electro rhythms.
FYM is stoked to come together with PopScene to deliver a night out for YOU(and a friend) away from your computer, dancing to smooth jams like cool kids should!
Cheers,
FYM