Hailing from Spain, Delorean supply unique world soundscapes, with bouncy rhythmic energy that sent this 40th Anniversary Bumbershoot crowd chanting to the sky.
These guys tore through their set, with a new order of tunes perfect for giant arenas of dancing neon-children, centering themselves with an intimacy that would fit perfectly in the club. Do not miss Delorean live! They made even the most awkward on-lookers shake and hop to massively accessible dance music.
Check out their psychedelic epic
Stay Close:
Splashed with rays of sunlite,
Stay Close
is FYM's offical JetSet anthem! Allowing us to trek on into the unknown with a sense of hope, and discovery.
Other notable performances came from the likes of Billy Bragg. His solitary presence on stage with just a guitar backing him, gained more respect than most full line-ups on this evening. He sang through a meaningful set of rebellion songs, with Woody Guthrie covers peppered in, all the while drinking hot tea on the Starbucks stage. (how punk is that)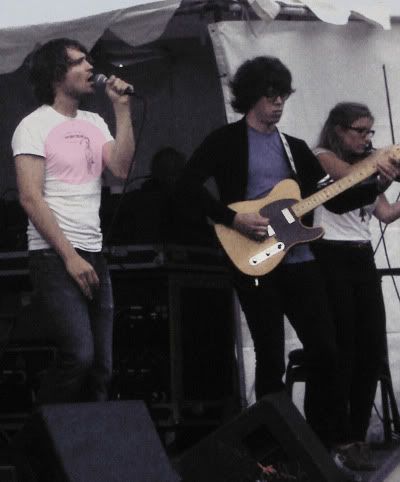 Ra Ra Riot showed our good buds at daytrotter.com some love by sporting the signature Daytrotter shirt on stage at Bumbershoot this year. Click here for Ra Ra Riot free tunes at
Daytrotter, and more information on how to get one of those bossy shirts!
The Dandy Warhols
closed out our Sunday evening. Courtney and crew, played through a string of hits, showing off a variety of tunes from their deep catalog (new hits record out now).
Thank you Bumbershoot for the tickets! FYM had an enjoyable evening on your dime, watching an eclectic a la carte menu of diverse music!