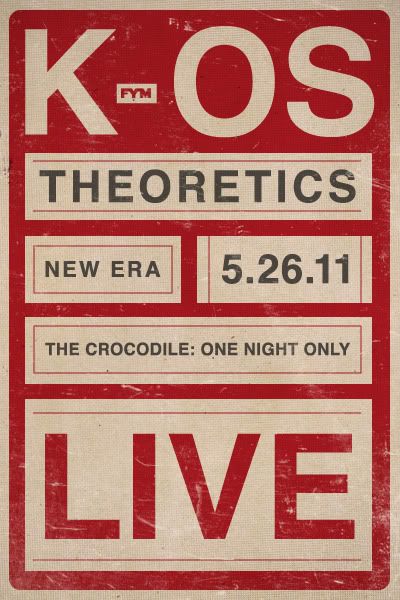 FYM was on the scene last night at the Crocodile (our favorite venue to see shows in Seattle) for an unprecedented evening of Hip-Hop prowess.
A trio of MC's started off the evening, going by the moniker
New Era
. These guys literally were added to the bill mere hours before the show started, so they seemed pretty hyped about being where they were (opening a concert for multi-platinum Hip-Hop Recording Artist: K-OS).
Because it was such short notice, New Era rapped over a disk spinning instrumental tracks of their beats. The passionate verse weaving and boundless joy New Era delivered while performing on such short notice was extremely impressive. The trio's dynamic was unique and confident, and showed tremendous potential for big things to happen in the near future.
The Theoretics
were up next, and immediately won over our spirit that evening. To sum these guys up it's simple,
One cannot fully understand Northwest Hip-Hop without seeing Seattle's own THEORETICS live
! Their music is inspiring, intelligent, and funky.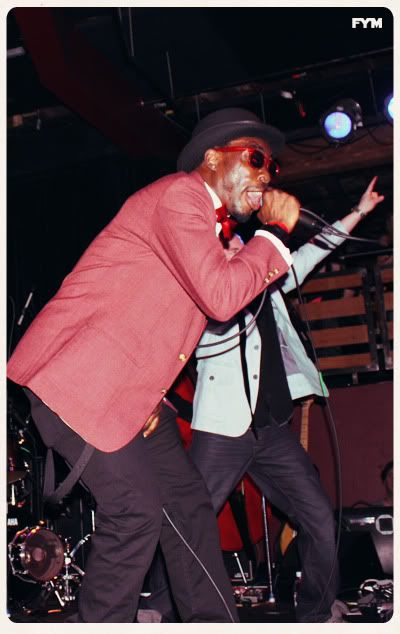 The Theoretics are fronted by two formidable MC's that play well off each other, backed by a full-live band that could give the entire ROOTS Crew a run for their money. Even if Seattle is a bit North, this is still West Coast Hip-Hop featuring: highly kinetic, jazz-infused, funk n' roll, with upbeat thoughtful lyrical content.
(click image to expand for detail)
Standout jams included
Be Free
,
Jekyll and Hyde
, the groovy rapid fire
Who We Are
, and
Higher
. FYM was stunned to discover this level of Hip-Hop in Seattle existed, and def will not miss the next time they play again in the city. More music like Theoretics needs to exist in the collective unconscious of both Hip-Hop and Rock landscapes. Amazing set! Check out their website for more information
HERE
.
Warming up for this weekends massive Sasquatch Music Festival, the Canadian Hip-Hop Champion (and one of our top 5 MC's)
K-OS
took stage Thursday night with a set full of surprises.
K-OS (Knowledge Of Self, Kheaven Brereton) comes from an alternate Hip-Hop galaxy, peerless as a writer, rapper, crooner, producer, and thinker. K-OS and his brilliant band draw from an unlimited scope of influences, his versatility makes him the ultimate MC, simply flawless.
(click image to expand for detail)
Surprises of the night included: K-OS with an impressive cover of Weezer's immortal
Say It Ain't So,
evoking all the indie kids in the room to scream along, fist-pumping at a raucous pace. A random appearance by Joesph Troy of Rx Bandits (x-Drive Thur Records, going on their last tour this summer), came on stage to play a tune. Another nice surprise was the impromptu freestyle appearance on stage by Seattle MC
Pearl Dragon
of Champagne Champagne.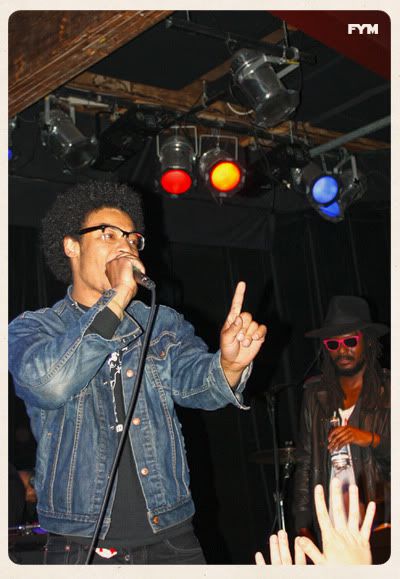 But in the end K-OS owned the night with passionate performances covering various portions of his extensive catalog. Tracks like
I wish I knew Natalie Portman
(featuring the piano melody from Phantom Planet's California), AquaCityBoy, and Zambony all translated especially well live.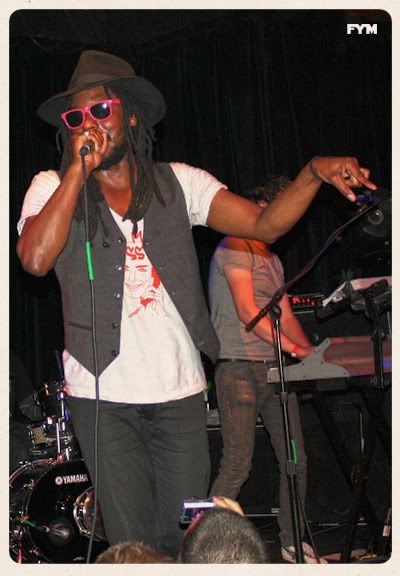 FYM's only complaint of the night was our favorite tune
Born To Run
, did not make the set list. But seeing one of our sonic super heroes live in such an intimate venue, with a stellar local opener like Theoretics, made for a night this Art Director will soon not forget. Stay updated on all things K-OS
HERE
.
Cheers, FYM.
Thoughts. Graphic. Photos. J Thomas Codling.