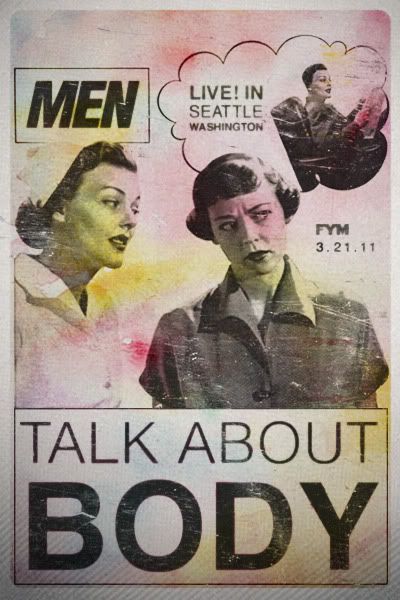 MEN could possibly be best described as gay-militia music- setting fire to conservative dance floors everywhere. MEN live combine kinetically progressive anthems with sublime visual theatrics. JD Samson (Le Tigre) and crew create a sonic foundation that is charged with intelligently political, queer pride hip-shaking, and club friendly bliss. Check out this campy punks at the disco thinker- Who Am I To Feel So Free:
FYM had our first live experience with MEN about a year and a half ago, when they opened for The Gossip at the Showbox. We were pleasantly stunned by their power to move the dance floor (literally everyone in the audience, gay and straight, danced together that night). This is anti-conservative, free to be you and me, fire at the disco, electro-pop. FYM can't wait to see MEN live in Seattle this Monday, March 21st at the Crocodile. forYoungModerns fully embraces this groups engaging sonic journey, spreading love and positive vibes to a community that deserves the same human rights that most closed-minded conservatives abuse and take for granted. We are happy MEN exist, and can't wait to party with like-minded forward thinkers who make refreshingly honest music.
MEN's kinky debut album
Talk About Body
can be heard
HERE
.
Cheers,
FYM
Graphics/Thoughts: J. Thomas Codling