(Editors Note: Each week our resident Boston Beer guide, Jeff 'Pussy Galore' Preussner- Stuns us with his writing prowess when it comes to talking about his second favorite hobby- drinking quality BEER! Enjoy this weeks Brew Daddy Special. And thanks to Sarah Lynn for taking better pictures than Jeffery can!)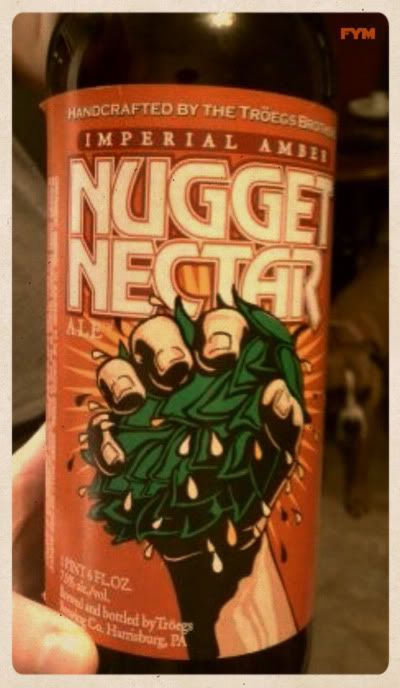 Tröegs Nugget Nectar (Seasonal)
Classification: Imperial Amber Ale
IBUs: 93 give or take
ABV: 7.5
Similar Brews:
Imagine for a second you are pacing back and forth in your favorite beer/wine shop looking for a brew to review for this weeks FYM Brew Daddy Special… Suddenly something catches your eye, its back there in the corner, see it?!?! It is Tröegs Nugget Nectar. If you've never had it before, please do. FYM for the most part enjoys Tröegs' brew line-up (especially their HopBack Amber ale) and the label has some pretty intense graphic design- so you gotta buy it.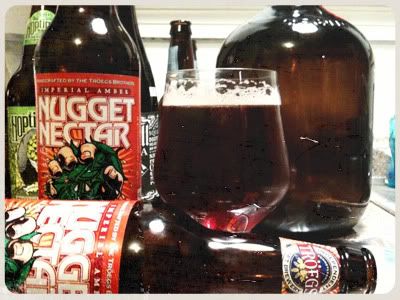 Bring this bottle home and crack er' open. A yeasty stank, and hop aroma fills the air, (in this case yeasty stank is a good thing) a smile comes over you face and you reminisce about all those home brews that smelt so similar. This Imperial Amber Ale is something special. It is a seasonal brew by Tröegs that is an amped up version of the HopBack Amber. More malt, and much more hops. It has that homemade, home-brewed feel to it. The beer itself, is also quite refined- the product of years of experience, and experiments of craft brewing. Personally I would love a version of this brew done with Belgian Ale yeast (something to think about Troegs).
FYM Listen While You Drink:
Nugget Nectar is an excellent beer with an insane hop bill of Nugget, Warrior, Tomahawk, Simcoe and Palisade hops (93 IBUs!). Pilsen, Vienna, and Munich malts combine to create a beautiful deep amber color, perfect body and serious flavor, to back up those hops. Drink it slow and sexy to appreciate the complexity; use a snifter to really taste the dry hop. All and all a pretty great brew pick it up and try it out if it catches your eye.
Cheers,
FYM
Words: Jeff 'Brew Daddy' Preussner
Graphics: J. Thomas Codling