FYM SPORTS! February 17th marks the start of FYM's 10-day Chicago Cubs Spring Training Countdown. Today FYM is featuring our favorite Chicago Cubs resource: IvyEnvy.com- A tremendously engaging/passionate blog devoted to "Strong Opinions & Marginal Analysis of the Chicago Cubs."
We recently contacted founder Corey Fineran, who was kind enough to share his insight on IvyEnvy's quick-witted success.
FYM: Could you give us a little background on why IvyEnvy.com was started?
Fineran:
Ivy Envy is...
a Chicago Cubs blog based out of the Quad Cities (Midwest IA/IL). I started the blog because I would talk with my friends that are Cubs fans and felt that there should be somewhere for normal fans to voice their opinions about the team they live and die with daily.
FYM: Now in the blogging community, devotion and persistence count! How long has the site been around?
Fineran: We are entering the 4th season of blogging, and 3rd season of podcasting about the Cubs. The podcast is a roundtable format during the season with whichever of our writers are available for the podcast, which usually ends up being 3 or 4 of us. During the off-season the main three writers record weekly podcast episodes through Skype. The podcast is available on our website, or it can be downloaded for free in iTunes.
FYM: Part of enjoying baseball is the people you surround yourself with while watching it. Does IvyEnvy.com ever hold live events?

Fineran: In addition to the blog and podcast, we host live events at Twenty Sports Grille and Nightclub in Moline. We record our podcast live at Twenty twice a season and we do monthly gamewatches. We have our first two events of the season at Twenty scheduled for April 2nd and May 2nd. During our first event, we will have a tailgating game-watch at Twenty. The tailgating theme will consist of games like bags, washers, etc. during the Cubs game. Prior to that, we'll record our weekly podcast episode. On the evening of May 2nd, we will have a public viewing of the documentary "We Believe." This documentary was created by the people that did "The United States vs. John Lennon" and focuses on the Cubs and Cubs fans.
FYM: Are you excited about spring training coming up?

Fineran: Yes! What we are most excited about, is our upcoming coverage of Spring Training 2011. We'll be heading West March 18-25 to cover Spring Training for the very first time. We will have daily blog posts, live Twitter updates during games and podcasts while we are out in Mesa, Arizona. We will also have interviews and other extras for our readers and listeners. We also plan to provide some coverage of the Cubs minor league system with the Peoria Chiefs and the Iowa Cubs during the 2011 season.
FYM: What's the best part about running this site?

Fineran: For those of us involved with the site, Ivy Envy provides us a great opportunity to express our feelings and emotions about a team that hasn't won a championship in over a century. When it comes down to it, the blog and podcast are probably a little closer to therapy than we'd like to admit.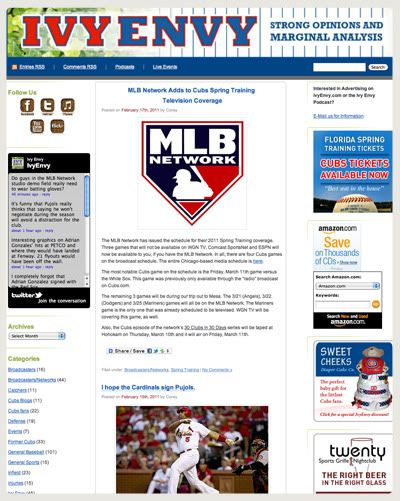 We would like to thank IvyEnvy.com's founder Corey Fineran for taking the time to sit down with us. And in honor of the upcoming 2011 Chicago Cubs Baseball season we leave you with the anthem Go! Cubs GO: