(Editors Note: We are still reveling in the reverb that was The Church playing live in Seattle this week. The event was so special, FYM had to provide multiple perspectives (creating a duel review) of an unforgettable evening. You will hear from Art Director: J. Codling, and FYM's Security Guard, and go-to high-end jewelry designer E. Codling. Cheers)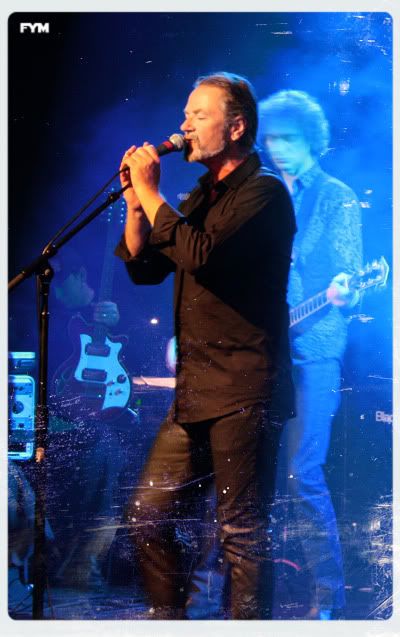 The Australian Rock n' Roll Hall of Fame inductees known as
The Church
have set out on a career spanning tour called
Future Past Perfect
. They delivered one of the most unprecedented performance evenings this Art Director have ever seen live in Seattle (over two days) this past week.
A special thanks must be sent to the iconic/classy/stylish Seattle Venue, The Triple Door, for letting us in that night. FYM was struck with surprise Tuesday evening, when our name was nowhere to be found on the guest list (which was confirmed over a month ago, by The Church publicist- What happened Brooke?). Luckily our Jedi Mind Tricks, and kind help from the management resolved the issue. FYM soon found themselves being escorted by the friendly Triple Door staff to a dining table, seating us right up front (a mere ten feet from the the stage).
The Church started off this eventful night, ripping through their latest release, Untitled #23. It's a reaffirming creation, that journeys into deep valleys of solid, thought-provoking sonic prowess. Untitled #23 is a grand showcase of twinkling atmosphere fused with 30 years of talent, culminating in their most relevant record to date. It's an FYM must listen, check it out
HERE
.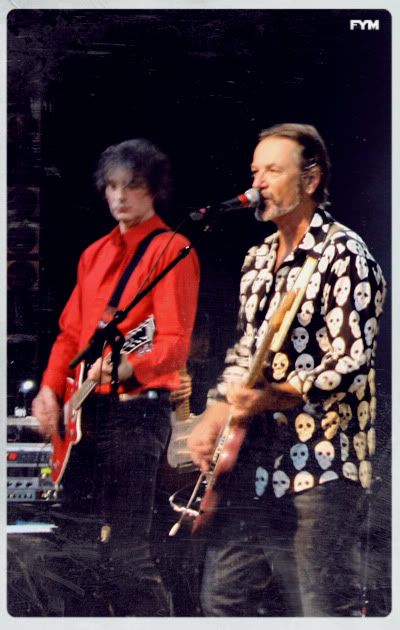 The Church is known for the distinct tuning they use while playing. After every song, seamless instrument changes took place (cheers to their techs for making it happen), with The Church pulling specially tuned guitars from their rock arsenal.
It also should be mentioned that The Future Past Perfect Tour model is quite brilliant. There seems to be a classic album tour trend going on right now. But as other acts like Weezer, are posting up in cities two nights in a row, and only playing one classic record each night (forcing devoted fans to either choose which night they want to attend, or fork out the green for both concerts) The Church offered THREE records in one evening, two nights in a row at The Triple Door in Seattle (with tickets ranging from $30-$45).
With each album being performed entirely, representing the very best of bands three decade spanning music legacy. Following Untitled #23 came the 90's gem Priest=Aura, closing with their 80's masterpiece Starfish.
It's definitely a special gift hearing any album performed in-full live. This idea engages the audience with new perspective, allowing the listener to appreciate how each song fits into the bigger picture (the album itself).
Lead Steve Kilbey, continues to impress FYM with his solid/sultry vocal work, and truly seraphic showmanship. Guitarist Marty Willson-Piper, was also a dominate inspiring force to appreciate live (go back and listen to Reptile! off Starfish). And Peter Koppes noble, yet understated presence, kept the boys in-line throughout each set.
The Church in Seattle turned out to be a jaw-dropping marathon of shimmering artistry. The U.S. leg of the tour runs through the end of February, check
HERE
for tour dates. The Future Past Perfect Tour is a peerless, unrivaled rock spectacle. A must see for lovers of music.
Cheers,
-j. codling words/graphics/photos
(Part Two Editors Note: The second review is written by FYM's Emily Codling. A little background, Emily and Jesse have been attending shows together for nearly 10 years now. This review is from her first-person perspective, with insight on how the evening went as a whole)
As we walked into The Triple Door for the first time ever. I had no idea what to expect... my first impression gorgeous! Although the dinner theater style seating had me a little worried. The only other time I've been forced to sit at a rock concert (Ryan Adams), J. Codling and I were almost removed from the show for STANDING!! (Jesse was indeed that guy at the Ryan Adams show that 2,000 people boo'd to sit down when all we wanted to do was dance to let it ride). But this wasn't folding chairs on the Iowa City IMU lounge floor. The thoughtful Triple Door layout of tiered, stage-focused tables, art-deco style decor and dim lighting gave a feeling of a 1920's big band club, with the class and elegance to back it.

After a little wine/dining the first album was played. Untitled #23 is an emotional ride with lead singer Steve Kilbey exposing some beautifully heart-breaking tales of love lost, with seemingly bitter endings. The crowd enjoyed the music, along with their pad thai- between songs the sounds of silverware hitting dinner plates filled the air (it must have been a surreal experience for a rock band to play this venue).

After a quick wardrobe change, and two sticks of nag-champa lit, the band came out for their second set. Priest=Aura definitely evoked a stronger crowd response. Stellar sound accompanied the poetic lyrics from this 1992 treasure.
We were stoked as FYM headed into the third and final set of this marathon of amazing music. Starfish was the bands 1988 release, and gave them their first and only US top 40 hit. Under the Milky Way received some reprise in 2001, when it was featured on the soundtrack of every hipsters favorite film, Donnie Darko. The band came out as a kinetic force. The Church evoked a youthful excitement throughout the audience. The.. "let's order another round" feeling was in the air, as the band played one solid jam after another on this extraordinary, breakthrough album.
(Click Image to Expand for Greater Detail)

Watching The Church live- who have withstood the test of time, and recorded decades of amazing music, truly makes you realize the incredible devotion these men show to their craft.
(Event Program: Click Image to Expand for Greater Detail)

Today, the working age adult has an average of five careers in their lifetime. It makes you wonder if the demonstrated dedication will still exist with modern musicians. Will our children and grandchildren have the privilege of watching a band who has played together, and stayed together long enough to produce over 30 years of amazing music?
-e. codling
Check out our streaming (non-downloadable) recording of Starfish Live in Seattle below. This recording is meant to promote The Church, and shed a bit of light as to how special this crew really is live! Enjoy: