FYM (guilty) pleasure,
30 Seconds to Mars
,
perform live at the luxurious Paramount Theatre next Tuesday, January 18th 2011.
Check out
30 Seconds to Mars
, showcasing their true talent of blending cinema and soundtrack. Over the past few years, Jared Leto and crew have released a tremendously entertaining lineage of Music Videos. These videos feel more like mini-feature films than your typical band (going through the motions) on a campy production. On
Kings & Queens
, 30 Seconds to Mars continue this theme with a
Darko
meets
The
Warriors
(come out and plaaay)- Critical Mass, fixed-gear biker gang celebration. The tune works perfectly with the stylish blanc-stallion art direction, a 'we're in this together' vibe, and 'look Ma', no hands' Leto riding his stark white fixie through the streets at a champions pace: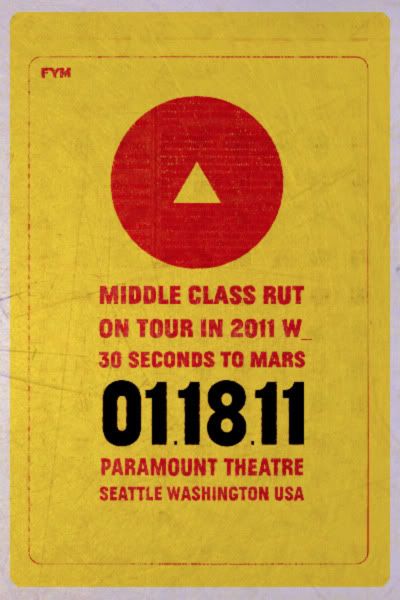 Sacto CA two-piece,
Middle Class Rut
, open the night with their unique brand of compelling, rough around the edges, hook-filled atmosphere. Check out Middle Class Rut and their holy rollin' heavy foot stomper
All Walks of Life:
Go to
M.C. Rut's
well designed
m_space
for more information on their latest release
No
Name No Color.
We hear these dudes put on a righteously kinetic live performance, so come hang out with us on Tuesday and let the entertainment commence!
Cheers,
FYM