(Graphic By: Jesse Codling - Words and Photos By: Will Sellers)
On Monday night in Los Angeles,
Screaming Females
and
La Sera
took the stage in what was essentially an advanced placement course on gorgeous melody and guitar prowess.
Los Angeles-based and New Jersey-raised Katy Goodman pulls double duty as the singer of Vivian Girls and as the singer-bassist of her own project,
La Sera
. La Sera eliminates most of the noise and raw punk rock sound of Vivian Girls and focuses on crafting elegant and ridiculously catchy vocal melodies delivered by Goodman's truly golden voice, all backed up by some expertly toned reverb-aided guitar and drums.
The plaid-drenched band seemed to tear through about 15 (possibly more?) songs in about thirty to forty minutes: all great, relatively short tunes with all nothing excess; just straight-up great melody followed by great melody. It was such a feel-good set for La Sera, as the band (especially Goodman herself) were all smiles all night with some witty between-song onstage banter. The group hadn't played a live show in about a month, and one could tell they are very eager to play these songs off their new album on the road very soon.
That new album is the self-titled debut
La Sera
, which is to be released on
Hardly Art
on February 15. Check out the adorably gruesome video for "Never Come Around" just below the
La Sera
album art:
Before their set, you spot one big indie rock dude setting up his bass, a sort of scrawny looking drummer building his kit, and then singer/guitarist Marissa Paternoster, who is maybe five feet tall, looks 15 years old, hardly says a word, and makes eye contact with seemingly nobody, fiddles with her effects board on the floor. If you're unfamiliar with the band, you understandably don't really know what to expect. And then within 10 minutes of their set, your melted face is next to your shoes on the floor.
What Marissa does to the guitar can only be described as a savage phenomenon. Like a character out of Scott Pilgrim, you will be completely floored by her badass-ery and utter uniqueness. Some days it might be easy to think that the electric guitar seems overused and stale, and then someone like Marissa comes along and tells you to "shut the fuck up" via extended guitar shredding. Luckily, the boys in the band are also talented enough to keep up with her.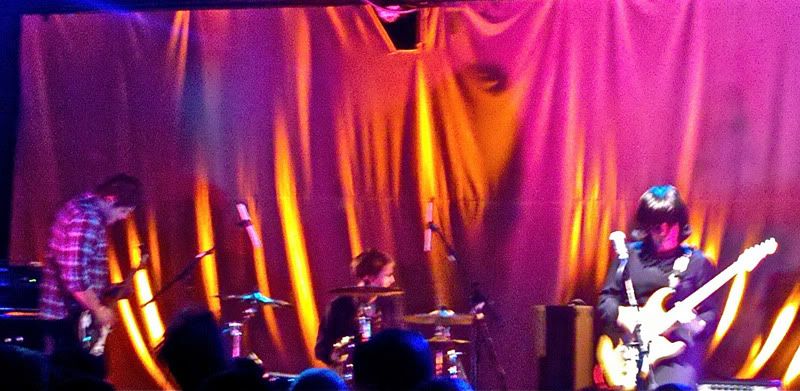 Check out this great video biography of the band, which features some fine examples of Paternoster's pristine skills: