(FYM's Art Director is very jealous of our publicist who was treated to an unforgettable evening with Casey Spooner/Scissor Sisters. Regardless events like this are the reason why we can so much about the power of live music) From the moment FYM stepped into Oakland's stunning Fox Theater for the evening, we knew it was time to go to work (
Night Work
that is). The sexy nightclub atmosphere was no great surprise to us. This evening was all about getting noticed, and hooking up. Decadence, glamour, and money dripping from the rafters... this audience came to play (what else would you expect from a Scissor Sisters show).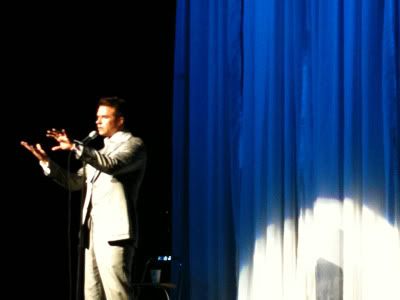 Casey Spooner
(of Fischerspooner) opened the show with a simple backdrop, and a single spotlight showcasing his dashing suit. Simple concept: himself, a microphone, and a crowd to get the evening poppin.. and it worked, starting a snowball of energy which continued to build throughout his set. Spooner's hot new single was well received, "Faye Dunaway" which is available for free on his website. Halfway through the set, smoke hit the spotlight, but not from a machine. This is the Bay- in Oak-town, Spooner couldn't help but point out "That weed smells good!" His album
ADULT CONTEMPORARY,
was produced by Jeff Saltzman who was in the crowd, (also happened to produce
HOT FUSS
by The Killers FYM's Top 5 Fav). A few other tracks from the album that sparked the crowd were "
RSVP
" and "
Cliche
".
Scissor Sisters touring DJ, Sammy Jo spun massive beats between sets, which met passionate dancing from the over-the-top fabulously dressed audience (one man dressed to the nines with a cupcake headdress).
There was no doubt what the crowd was here for. Whether you were butch, fem, queen, twink, daddy, bear, the gamut of gay adjectives had come to party (one of the coolest audiences we have ever partied with)! The crowd featured some of the most bizarre/fabulous fashion that has graced Fox Theater since Kylie Minogue. Scissor Sisters came out laced in their best night work clothes. Leather and spandex were the textiles of choice for the evening. When the lights hit the stage the most epic SS dance party we have ever seen began.
Miss Matronic said how great it was to be in the Bay Area, and when asked how many people made it over from San Francisco, the whole crowds hands went up ( The
Scissor Sisters
couldn't have asked for a more friendly open group of fans). Miss Matronic made it apparent how important SF has been to (her success) saying how much she loves Tranny Shack as she has sung there often.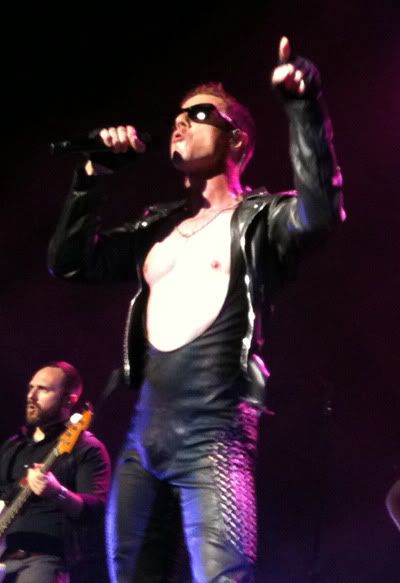 "Running Out" came on (or came out?) as Jake Shears (dripping with sex) started his work out session for the evening sprinting back and forth on stage, making the photographers frustrated as all possible to get a photo where he wasn't a blur. The lights for the evening battled with the best (pink floyd status lighting) with lasers flying all through the balcony. During "Skin This Cat" Ana showed her dance moves with accompaniment from backup singers, becoming backup dancers.
Jazz hands hit the air the second that "I Don't Feel Like Dancin'" went on which cleverly had lasers shoot everytime the laser (sound effect) in the song played. Hundreds of gay men dancing under neon lights made it feel like we were at The Cafe in the Castro. The moment was not lost on Scissor Sisters, as they are huge champions of all types of people. They provided the perfect atmosphere to come as you are, offering acceptance, love, and a sense of family (something that there needs to be more of when society embraces the gay community).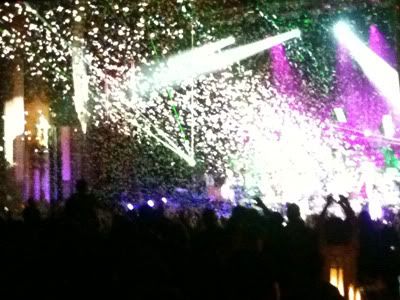 The encore came and of course clothing changes happened with Jake disrobing into a shredded piece of clothing that barely covered his front let alone his back, which he was more than happy to give all the men everything they were hoping for (hot ass?). "Invisible Light" came on during their encore, and the light show really popped off, filling up every piece of the venue as confetti shot out, showering down rainbow colors on a beautiful group of rainbow children just there to take their mamma out, get her jacked up on some cheap champagne (our favorite), and let the goodtimes all roll out.
Quote of the evening: "Don't ya love this little thing!" as a rack of dudes piled into a Honda Element.
Big Ups: To Casey Spooner showin out on his own.. definitely one of our artists to watch in 2011.