Admiral Radley
or as the white tape on the band's gear refers to them as Ad Rad opened up before the
Ford Edge
supporting
Band of Horses
. Surprisingly enough, within the first few songs "I Heart California" came on! ( Our favorite tune!) Ad Rad's drink of choice was confused to be red wine by singer Aaron Espinoza that Jason Lytle was drinking which happened to be chardonnay, Lytle said he was "Going John Tesh" with the drink.
In the meantime their drummer was puffing away on cigarettes and reached a point where his lighter stopped working. They put in a request for a lighter from the crowd and immediately got a couple lighters tossed at them, responding by saying "Careful what you wish for."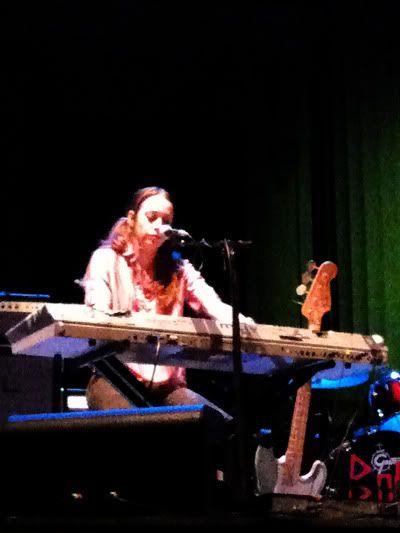 At the start of their set the cigarette smoke confused our publicist- thinking it looked like there was a real smoke machine set up behind the band. Between songs ambient nature tunes played in the background, adding a relaxing atmosphere for the stoned Berkeley audience. The last time that Admiral Radley's Aaron Espinoza was at the Greek Theater was for the Spin Doctors, and told the crowd to fess up to liking them. Jason Lytle went on to sing one of his songs letting us know that "This song is about one of the great loves of my life, skateboarding." A few of their other tunes during their set was the slowjam that's prefect for writing int text "I Left U Cuz I Luft U" along with "G N D N" that is short for goes nowhere does nothing. FYM can't wait for a return to the Bay Area by Ad Rad, there's just a few dates left with Band of Horses before they head over to Japan.
Band of Horses (had one of the coolest back-drops we have ever seen) immediately got it going! Opening with "Ode to LRC" which sounded as perfect as it possibly could. Early into the set it seems as if lead singer Ben Bridwell is either terribly bored with his songs while walking around singing on stage, or just has no clue what to do when not holding a guitar. They tossed in a few cover songs during the set, one which was a Kris Kristofferson song "Just The Other Side of Nowhere" that was perfect in the Greek Theater with a crowd that couldn't help but not say a word during the song.
The set got rolling with "
The Great Salt Lake
" which makes FYM want to hit the baseball park every time it comes on, and smoke a cigarette while sliding into home plate. The song that everyone wanted to hear was obviously "Weed Party" when you come to the bay area and the doobies were lit up, and made the venue smell ripe as ever. The great thing about Band of Horses is that they can really swoon a crowd, and then bring them back up with a jam like "Weed Party".
Right as Band of Horses were finishing up their set the guitarist got a bra tossed his way, only to find it after the song finished. Of course he had to bring it up, and have his Al Green moment since odds are likely that might have been a first for the man. Towards the end of the evening a concert goer snuck in a few too many glow sticks and started making them rain on to the stage. Ben Bridwell couldn't help but toss a few back into the crowd. BOH finished up their set for the evening, and Ben Bridwell headed off stage, letting us know that it was "Our fake last song".
Band of Horses came out for their encore, and there always has to be that guy that yells "Play The Funeral" at every show. Of course the guy got what he wanted, but had to wait until the last song of the evening to get it. "No One's Gonna Love You" played during their encore, and the quote of the evening from a girl next to me "How beautiful was that?! Beautiful, just beautiful" she said as she might have had a few too many $8 beers of Coors Light. Closing the evening with "The Funeral" was perfect for these guys, and everyone couldn't have been in a better spirit.