It has taken For Young Moderns a week to finally get around to posting a review on FYF Fest, and if it weren't for exhaustion being brought on by a big job interview, illness, and traveling to three major metropolitan areas in the past week, I'd blame FYF Fest solely for being barely able to lift a muscle all week long.
FYF Fest was indeed that exhausting. It was set in what seemed like an area that was mere yards from the burning sun in the expansive Los Angeles Historic Park (a.k.a. big dirt field by the train tracks -- the stages were named after towering trees (Sequoia, Oak, Redwood) which seemed like a cruel joke). The promoters did a fantastic job in securing a great lineup and, up until the end of the festival, also did a superb job in making sure all the bands played on time and sounded good, but unfortunately, that's pretty much where the organizational skills ceased. Everything else about the festival seemed incredibly half-assed. A critical amount of festival time was spent standing in various lines.
We stood in the line to get in for about 90 minutes, thereby completely missing such early acts as The Growlers, Abe Vigoda, Let's Wrestle, The Blow and most of Cults, among others. We stood in line for about 20 - 30 minutes to buy some $4 water bottles and a $7 hamburger (a few times). We had the option of standing in what looked like a 45 minute line just to get to one of the few water fountains there.
The two FYM staff members who attended FYF had won a pair of VIP tickets via a Facebook contest way back when the lineup was initially announced. After we had stood in the first line to get in for an hour and a half, we told one of the volunteers working the will call table that we had won 2 VIP tickets, and she immediately proceeded to give us two regular tickets just based on our word alone (we never stepped foot in the VIP section). No contest winners' names were on any sort of list, no IDs were checked. Anybody could have walked up and said they were ticket winners and would be handed a free ticket, no questions asked. So of course, friends were texted and instructed to come down and do the same. The general censuses amongst the other people in all the lines was a baffling scoff in regard to how poorly organized the whole thing was.
Anyway, even though we came for the music but stayed for the lines, it was the bands that was most important.
Cults
When we finally walked in, NYC-via-San Diego indie pop darlings Cults were playing their last two songs. We were able to hear their lovely summer jam "Go Outside", I noticed that singer Madeline Follin looks a lot like a girl I crush on, and I wondered when they were 'finally' going to drop a full-length LP.
Warpaint
After watching the final two Cults songs, we wandered over to the vast forest of the Redwood stage to catch L.A. locals Warpaint, who seem to be catapulting in popularity more and more every week.
Warpiant has yet to blow us away with anything they've recorded and released so far, but after being completely WOWed by their live set multiple times in 2010, their upcoming debut full-length,
The Fool
(out October 25 on Rough Trade), is still one of the most anticipated releases of the second half of 2010. Plus, singer/guitarist Emily Kokal is one of the most mesmerizing frontwomen in any band to come around in a long time.
Best Coast
Best Coast did their usual great thing, playing a set that was dominated by songs off of
Crazy For You
and a couple from earlier EPs. The crowd was noticeably massive for a mid-day set. It seemed a bit criminal for Best Coast to be playing at such an early time, as they were recently named the #1 Best New Band in the world by Britain's NME and are undeniably surging in popularity, as other bands who played later, such as Man Man, have been barely active and sputtering lately. However, Best Coast's songs are the musical embodiment of the California sun, so it's fitting, after all.
Wavves
FYM saw Wavves frontman Nathan Williams at the end of the festival watching Panda Bear's set, and one of us went up to him and told him Wavves was awesome earlier in the day. "...despite the bass guitar issues" could have been added to the compliment but any kind of negativity seemed unnecessary. But it was true: Wavves did battle through some bass amplifier overheating problems to deliver a strong set.
The crowd fought to stay entertained during the technical issues by bouncing around Mountain Dew-branded Wavves beach balls:
and Williams himself helped out by partially dropping his pants and underwear because "it's like Blink 182". But those who stayed with Wavves were rewarded with good music and lost of dust in the mouth and clothes thanks to the slam pit kids. They closed their set with "Post Acid" which Williams said was "about soda", which was pretty hilarious.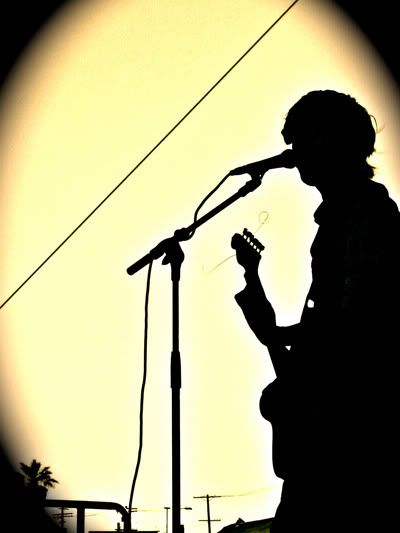 Dead Man's Bones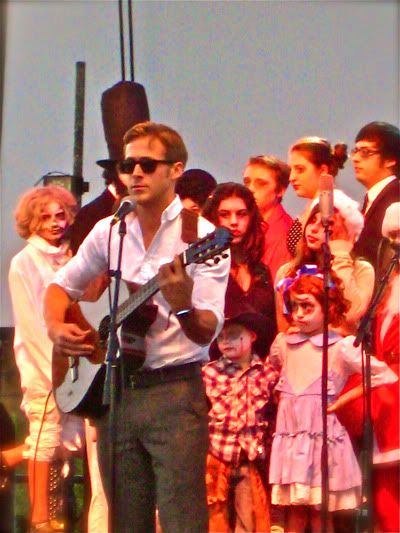 There were several miracles performed during Dead Man's Bones' set, including, but not limited to: Ryan Gosling fangirls keeping their high-pitched squeals under control for the most part, and the brave, talented kids on stage not freaking out at all over the massive crowd of fans in front of them. Everything seemed perfect during Dead Man's Bones set at FYF Fest: the sun was setting right behind the band, the crowd was in a cheerful, sing-a-long mood (maybe because they were delighted to see the sun finally go away), and the ladies got to see Ryan Gosling rock his omnichord.
More miracles: Dead Man's Bones managed to not only squeeze in festival-stealing set, but also a costume contest and a little kid/singer, barely older than a toddler, smash an acoustic guitar on stage. It was the heartwarming, feel-good performance of the night; almost good enough to make you forget about all those lines you had to stand in all day.
Almost
.
!!!
At FYF, you had a few options as to where you could dance your ass off, and of course your best bet is always on !!! if they're in the lineup. At this point, !!! seem like they've been doing this thing forever, but they show absolutely no signs of aging and when certain people left !!!'s set early to catch Delorean, they quickly came back when the Spaniards weren't on stage in time. The transition into "Must Be the Moon" from the previous song in the middle of !!!'s set was probably the most chills-inducing moment of the whole day.
Delorean
We don't quite know what happened here, but we left !!! a bit early to catch Delorean only to see School of Seven Bells was playing way past their scheduled end time. When SoSB finally ended, Delorean took their sweet time to get set up, and we had bail their set to catch Panda Bear. It was sad to have missed Delorean, but they DID just announce a Troubadour show in November, so hopefully we'll see them there.
Panda Bear
Panda Bear as a headliner is a pretty big gamble. Everyone knows his
Person Pitch
songs are awesome, no one's quite sure what to think of the new
Tomboy
material quite yet, and no one's also sure how one man with a guitar and a table full of effect gizmos can pull off his kaleidoscopic sound live. It turns out it's a pretty mixed bag. Panda Bear, who barely moved on the stage the entire set, started off with
Tomboy
track "Drone", which happens to be the most accurately titled song of all time. Noah Lennox's show started off with these remarkably loud synth chords and his own choir boy vocals for what seemed like 10 - 15 minutes. Things then seemed to be going on the right track afterward as he hinted a performance of Animal Collective's
Merriweather Post Pavilion
track "Daily Routine", but it remained just a hint.
A noticeable amount of fans seemed to trickle out quickly throughout the performance and, predictably, the crowd only got really moving when the euphoric hymn of
Person Pitch
's "Comfy in Nautica" were heard. After he got through "Nautica", many headed for their cars and the trains. It was a bit of an anticlimactic ending to a long, hot, and sometimes frustrating day.