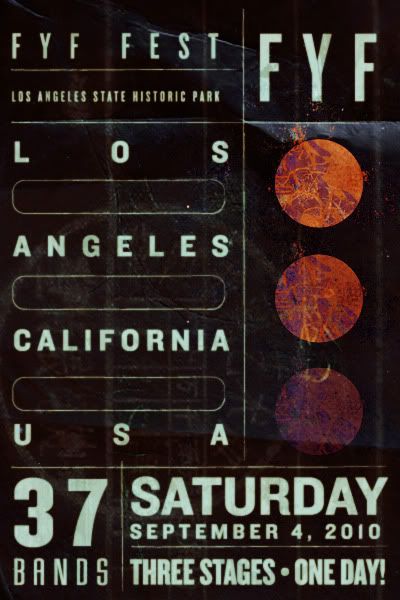 (Editors Note: Tomorrow FYM's publicist "Nicky FC" is flying down to meet up with our favorite LA writer "Willy Boy-I love the Dodgers-Sellers" to tag-team coverage of our fav LA FEST!)
With 37 bands and 3 stages, (not including the comedy tent) FYF Fest appears to be THE Heavyweight Titian of LA music Fests this year. So with all these bands, we needed to step back (breath) prioritize our time. So, for you and this Young Moderns sanity, we've made a list of the must see bands at the FYF Fest tomorrow (in the Los Angeles State Historic Park). Enjoy!
THE GROWLERS play the Redwood Stage starting at 1:20-1:50PM.
FYM caught The Growlers earlier this year over at The New Parish in Oakland alongside The Entrance Band. These guys are the forerunners of Goth Surf Rock (if that isn't a genre, we just made it up).
WARPAINT play the Redwood Stage starting at 3:05-3:35PM.
Sometimes you just know when a band is about to be massive, and FYM senses this happening once their album drops this October. Plus Shannyn Sossamon (dirty hot) once was a member of the band, and they happened to be on one of our favorite record labels (Rough Trade), it would be pretty tough to mess up.
BEST COAST play the Oak Stage starting at 3:35-4:05PM.
Best Coast happen to be our shocker of the year. They debuted at #36 on the Billboard charts (holla at cha boys BEST COAST- we dig you lots) and scored a cameo song with Kid Cudi + Rostam of Vampire Weekend. Put them in a park during the summer time (perfect setting), and make your ears press play!
DEAD MAN'S BONES play the Redwood Stage starting at 7:00-7:45PM.
Odds are pretty good that anyone watching Dead Man's Bones wants to spot Ryan Gosling (ourselves included). But this former Mouseketeer does something different than most actors in bands, he actually has some great music. Watching Dead Man's Bones hopefully will spark some early Halloween costume ideas for us.
DELOREAN play the Sequoia Stage starting at 10:10-10:50PM.
Just because they're named after a car featured in
Back to the Future
(fuck yes!) doesn't make Delorean an 80's cover band. The last time FYM caught them was in a nightclub in San Francisco. Extra points if you can shout out a song request in Spanish for these guys.
PANDA (BONER) BEAR play the Oak Stage starting at 10:50-11:50PM.
It's quite possible that Brian Wilson might show up during Panda Bear's set! Of course he will be confused, thinking that The Beach Boys have reunited without him. This isn't a knock on Noah Lennox of Panda Bear at all (it's just, the last band that could harmonize this good was The Beach Boys). His album PERSON PITCH has owned FYM's Top 10 albums of 2007 and his next album TOMBOY is due to release "Near the end of 2010".