(Editors note: FYM Art Director went to design school with Jeff "BrewDaddy" Preussner: our Boston Beer Buddy. Back in the day I had to edit his horrible art history papers.. but when it comes to talking shop (beer)-- as he has started his own craft brew co. "Brew Daddy" knows more about brewing than his west coast bros will ever. He truly is a genius when it comes to describing beer, and FYM is better for it. Cheers!)
Dogfish Head
is a brewery that likes to set the bar high (as a kite by then). First their flagship brew 90 minute, and again with the limited release of
Miles Davis Bitches Brew
. A strong yet smooth Stout/hybrid with hints of honey ale and gesho.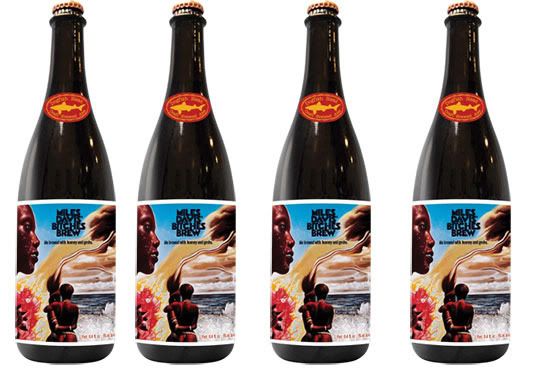 Dogfish Head Miles Davis Bitches brew
Classification: Imp Stout/hybrid
IBUs: 38
ABV: 9.0
Similar Brews:
Try any imperial stout but they wont come close to that flavor.
If you like the brew try:
Southern tier choklat/mokah/jah-va
Dogfish Head World Wide Stout
Stone Imperial Russian Stout
Youngs Double Chocolate Stout
One of the Best stouts I have ever had. Being more of an IPA guy that doesn't say much but I like to think I have tried enough stouts throughout the years to establish personal likes and dislikes, and let me tell you there is nothing to dislike about this beer. It's composed of 3 parts Imperial stout and 1 part honey beer which gives it a rich malty flavor, followed by a sweet honey bitterness-complimented by the addition of gesho. Gesho is derived from the root of a shiny-leaf Buckthorn, an African shrub, that is boiled and the malt is used in a matter similar to hops. This exotic combination of ingredients gives the beer a very unique taste. (in preparation before drinking: visit your mother, smoke one, play the record, and then buy the beer, enjoy!)
Sam Calagione
the owner of Dogfish and creator of the Bitches Brew designed it "as the ultimate partner for chili or spicy curry chicken" -but I think it goes just as well with a nice steak, and fries. After dinner turn down the lights turn up the record and get close on the couch. Enjoy Bitches Brew cool-out of a snifter to really experience flavor and unleash that dark aroma.
At $12-15 a bottle (750ml) it runs a bit expensive, but I for one would say that the experience is worth the expense (quality baby)...
coming up soon…
Get ready for the pumpkin season!
FYM BrewDOGS coastal war begins: East coast Vs. West coast is not just a rap thang anymore…
J. "brew daddy" Preussner
Boston Mass.