Thao + Mirah, made up of Pacific Northwest songwriters Thao Nguyen (of 'With the Get Down Stay Down' fame) and Mirah (of K Records fame), rolled into Detroit Bar in Orange County, California this past week for a Second-to-Last-Show-of-the-Tour Extravaganza.
The band stormed through most, if not all, of the songs on the
Thao & Mirah
album, which automatically made the concert one of a diverse variety of sounds (more on that below). They rounded out the setlist by playing some songs from both Thao and Mirah's solo catalogues (Thao's "Bag of Hammers" closed the set and is always a definite highlight of any Thao show). Amelia Randall Meath, singer of openers BOBBY, join the two on stage for "Eleven" and covered Merrill Garbus' part on that song (also see below), arguably the best track on
Thao & Mirah
. The group's bassist/multi-instrumentalist was using the motion sensory of a Wii remote as a percussion instrument in a way that currently stumps me (and I'm dying to find out how that worked).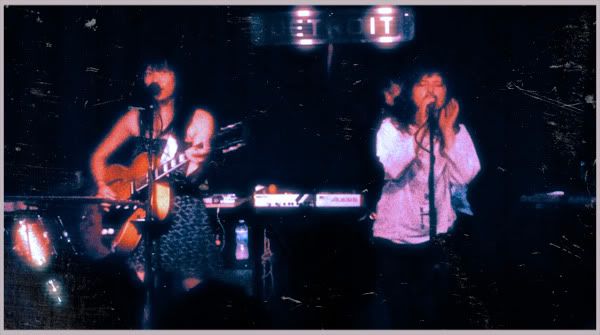 In hindsight, in the wake of the historic ruling on gay marriages in New York this past weekend, this was a special show in a way I didn't really think about too much before going. If you've read up on Thao + Mirah enough, you could draw the conclusion that their audience at concerts could likely be made up of members of the LGBT community. And if you know about Orange County politics and lifestyles, you know that it's a pretty conservative area for California. But it's great to report that the LGBT of the Orange County came out in full force and provided a very festive atmosphere for the show. Of course, the crowd could have come from anywhere in Southern California, but you have to wonder if Thao + Mirah planned the only Los Angeles-area stop of this tour to be in Orange County (as opposed to, say, the Troubadour in West Hollywood) very purposefully... The duo are touring hot on the heels of the release of their acclaimed album,
Thao & Mirah:
Thao & Mirah
is a diverse album that showcases the wide range of different sounds that these two musicians can bring to the table. They employ friend and fellow Bay Area musician Merrill Garbus of tUnE-yArDs on the brilliant rhythmically vibrant opening track "Eleven" (it can be streamed below). Elsewhere, "Little Cup" and "Teeth" are two hushed, delicate ballads that would not feel out of place on either Mirah not Thao's solo albums, respectively.
Collaborative albums such as this always have the potential to weigh too heavily on one talent over the other, but
Thao & Mirah
succeeds at creating a true, even musical partnership that utilizes the talents of both songwriters to create a very original work.
You can order the album online right
HERE
.
"Eleven (feat. Merrill Garbus of tUnE-yArDs)" from
Thao & Mirah
:
Words. Photos. Will Sellers.
Graphic. J Thomas Codling.