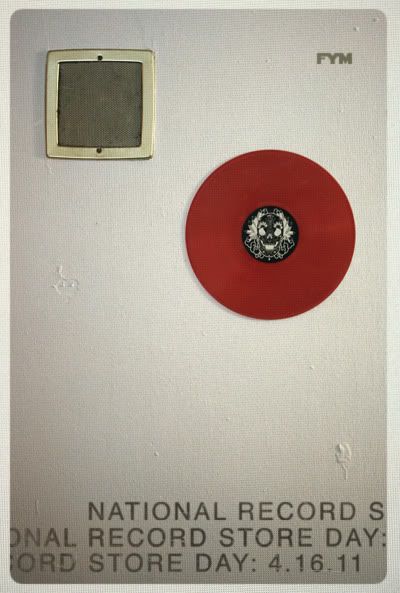 S
aturday April 16th, 2011 will be a good time to host company in Queen Anne, Seattle USA (This Art Director's Mother will be staying the weekend). Not only will Seattle Center, specifically the Experience Music Project, be hosting the grand opening of their massive new Nirvana exhibit, this Saturday also happens to be National Record Store Day.
When we want to find out about new music, at FYM HQ in Queen Anne Seattle USA, we like to walk an extra few blocks (past the competitor) to our favorite local record store, Silver Platters (which also happens to be located right down the road from the new Nirvana showing).Silver Platters (comparable in size to Amoeba in SF) boasts an extremely knowledgeable staff on all genres of music , a massive selection of new/used vinyl, cheap prices on used CDs and DVDs, with new stock rotating in daily. Oh yes, and their customer service surpasses any other record store in Queen Anne.
Silver Platters in Queen Anne will be offering over 270 reasons (limited ed. must haves by your favorite artists) to stop in Saturday to celebrate National Record Store Day. All regularly priced stock will be 15% off for the day, and doors open at 9am to card carrying Silver Platters members (it's free to sign up). Silver Platters will also be celebrating with a solid three-act live music line-up during the afternoon with: Massy Ferguson, Zoe Muth (see video below), and The Tea Cozies.Check out our favorite record store's official website for more details:
http://www.silverplatters.com/
In our opinion, it's simply a matter of taste. Haunting indie record shops continues to be an enriching experience, we still love the feeling of buzzing around our favorite shop, on a sunny mid-morning or afternoon, listening to solid tunes on the speakers, and searching for The Kinks- Are The Village Green Preservation Society on vinyl. So wherever you may live, be sure to stop down and discover some new tunes at your favorite local indie record shop April 16th. It's a day to remember/support an important iconic staple of music culture (and not support the big box stores like best buy, target, wall-mart), luckily indie shops still exist (in some parts of the country at least).
Cheers, FYM.
Graphic/Thoughts: J. Thomas Codling