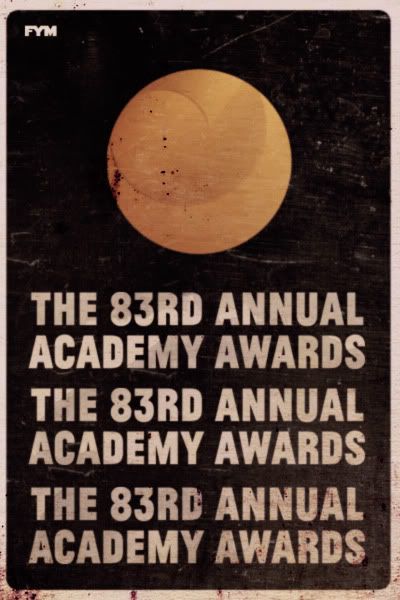 As our Oscar countdown begins for The 83rd Annual Academy Awards, we are reminded of FYM's favorite Oscar moment in recent years, which also serves as a nice closer to FYM's Black History Month Celebration.
In 2006, the Memphis Tennessee rap crew Three Six Mafia performed during The 78th Annual Academy Awards, and subsequently, much to their surprise, also won the Best Original Song Oscar for It's Hard Out Here For A Pimp off the Hustle and Flow film soundtrack! It was a stunning and triumphant moment for hip-hop, forever silencing critics on the validity of the music as a medium.
FYM hopes the Oscars can get it right this year. (If The Grammy's did it, so can the Academy!) It would be nice to see movies like True Grit or The Fighter get their moment in the sun. We can't stop listening to the gossip about a particular film (The Social Network) upsetting The King's Speech for Best Picture. And Really? Toy Story 3 was that good? (to be nominated...)
As heard above, FYM's greatest hope is to see Trent Reznor and Atticus Ross win for Best Original Score. It would be another triumphant upset outside the mainstream, finally giving Reznor the recognition he deserves, for being one of the most diverse, inspiring sonic visionaries of this modern day. Sound off, and give us your Oscar picks for this year's 83rd Annual Academy Awards through
facebook HERE.
Best Picture
Who Will Win: Oscar bait movies are almost always great films. And The King's Speech is the ultimate Oscar bait, and it shouldn't be a surprise to hear its name called at the end of the night.
Who Should Win: The King's Speech is, no doubt, an excellent movie, and would be worth of the top prize this year or any other. But the hyper-modern relevance and flash of The Social Network really needs to be recognized. If the Academy wants to shock everybody and award Best Picture to Black Swan, that would be pretty neat, too.
Who Will Win: Se7en, Fight Club, and Benjamin Button director David Fincher will finally get the recognition he's long deserved for his dizzying and marvelous work on The Social Network.
Who Should Win: Speaking of dizzying and marvelous, Darren Aronofsky's incredible work on Black Swan left audiences stunned across the world. This was understated and groundbreaking direction.
Who Will Win: It would be criminal for anyone else to steal Natalie Portman's Oscar away from her. No one else comes close to her work in Black Swan.
Who Should Win: Natalie Portman will win this one for Black Swan, and definitely deserves it, too.
Who Will Win: One FYM staff writer knows first-hand that Colin Firth extremely realistically nailed what it is like to be a stutterer. Firth absolutely knocked it out of the park in The King's Speech and will take Best Actor.
Who Should Win: All five leading actors really deserve this one, but Colin Firth definitely put on the best male acting performance of 2010 for The King's Speech. This is one of those years where you can't go wrong no matter who you give it to.
Who Will Win: As matriarch of the Ward family of boxers, Melissa Leo has her sights set on the Best Supporting Actress Oscar for The Fighter.
Who Should Win: Even though her part was definitely more of a leading role, Hailee Steinfeld was a revelation in True Grit, and came out of nowhere to become one of the finest young actors in Hollywood today.
Who Will Win: Christian Bale has this all but locked up for The Fighter.
Who Should Win: Christian Bale once again transforms himself physically for a role and is long overdue for an Oscar. Geoffrey Rush as a quirky speech therapist in The King's Speech is also very deserving too.
Who Will Win: Exit Through the Gift Shop may confuse or annoy older members of the Academy, so a safer bet would be the more Oscar-friendly Inside Job.
Who Should Win: For the first time since the heyday of Michael Moore and, um, Al Gore, a documentary is setting the Academy's world ablaze: Banksy's brilliant Exit Through the Gift Shop.
Who Will Win: The King's Speech's great yet Oscar-baity screenplay will take Best Original Screenplay this year.
Who Should Win: The spiraling, complex screenplay of Inception by Christopher Nolan is a work of art and deserves this honor.
Who Will Win: The Social Network's revelatory screenplay by Aaron Sorkin turns a billion dollar story into an Oscar gold winning screenplay.
Who Should Win: The Social Network has one of the most brilliant screenplays of any movie in many years.
Who Will Win: The Social Network's dark electronic score might not go over well with more conservative voters. In that case, The King's Speech will probably take this.
Who Should Win: As stated above, FYM is really pushing for Trent Reznor and Atticus Ross to steal this one for The Social Network.
Who Will Win: Toy Story 3. Duh.
Who Should Win: Toy Story 3. How long until the Academy renames this award "The Pixar Award for Best Animated Feature"?
Cheers,
Oscar Picks Commentary: W.K. Sellers
Thoughts/Graphic: j. Thomas Codling