(Editors Note: Last week FYM's Fashion Correspondent, Edwin L. Ross III, attended the Ke$ha- Get Sleazy Tour, live at the Showbox in Seattle. The following are his thoughts on how the evening went.)
Get Sleazy Tour
... More like get BRUTAL (who knew teenage girls could be so ruthless) Tour. Seeing
Ke$ha
Live, I must admit was one of the most intense concert experiences I have ever attended. The atmosphere was electric as we hit the bar. Soon after our party buzz took effect, Ke$ha sashayed on stage, and the audience went hysterical!
Everyone in the room was jumping, dancing, and slamming up-against one another. The energy was unbelievable inside this hot mess of a crowd. Ke$ha worked the room in her futuristic light-up outfit, showering her fans in glitter (by way of glitter cannons of course!)
(Above: Edwin shows us just how hard it was staying on two-feet during Ke$ha's performance)
The situation up front soon became a frenzy. It was a bit too much for my friends, and they had to get out. However, getting out proved to be more difficult then getting in. People were pushy!, thrashing up against us- but we finally made it back to the bar. As the rest of the crew sat back, I took out my camera and started busting my way upfront yet again.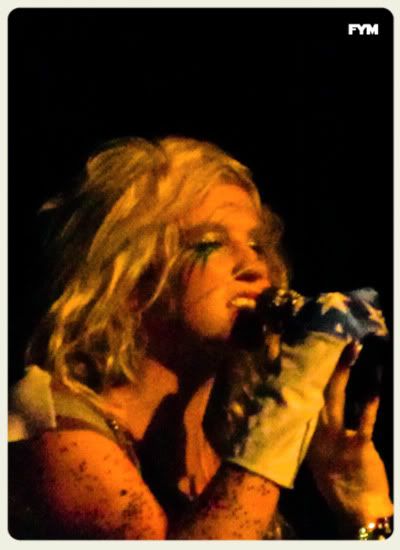 Finally, I was three people away from the stage, and had amazing view of Ke$ha. The party girl's performance was pretty awesome, living
up to her reputation of acting and looking (fashion-wise) out of control (especially with her American Flag outfit- which looked like she was attacked by a tiger)
hat night, Ke$ha's throngs of supporters, almost outdid her performance.
People bashing together was definitely the theme for the show. The crowd was even pummeling each other during the "The Harold Song" one of Ke$ha's slower songs. This had to be one of the rowdiest events I have ever been in (and I've been to numerous death metal shows..).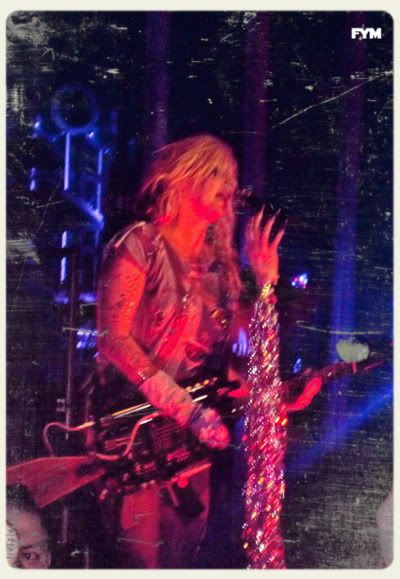 After having enough of the crazy Ke$ha fans, I busted my way back to the bar for the final couple of songs. As the event was ending, I ran into a girl that helped me to the front earlier, and found out several random girls punched her repeatedly in the face, after letting them get in front of her, brutal much?
It should be mentioned- Ke$ha's voice was spot on just like her CD, but there was no lip-syncing. You could definitely tell it was live, from the strain in her voice as she belted out tune after tune. Ke$ha truly loves her little "Cannibal" fans as she worked it the entire night giving a great performance. She even threw out condoms so everyone could be safe after the show! Ke$ha ends her tour this week, before traveling overseas playing Australia and Japan. If you're gearing up to see her live, be prepared to battle in the crowd as hard as she brings it on stage!