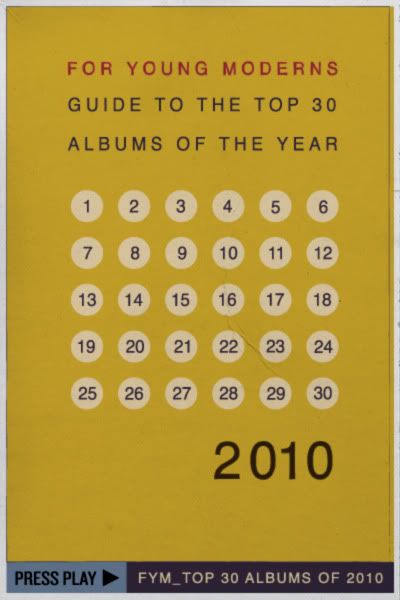 forYoungModerns is proud to present our first annual year-end list for Best Albums of 2010. This year seemed to have been filled with great new artists (six of the albums below are debut albums) while former behemoths like Daft Punk, MGMT, M.I.A., Interpol, and Lil' Wayne all released albums that, at the beginning of 2010 sounded like shoe-ins to be included on this list, but were all left out in the end. Surprises in lists like these are always exciting, aren't they?
We start off with not one, but
three
albums that equally deserve recognition as Album of the Year. The way we see it, three writers on our writing staff means three #1 albums. Who are we to decide which one of us is more correct in our choices? Congratulations to LCD Soundsystem, Joanna Newsom, and Suckers for topping off our list. Following these first three, the remaining 27 albums are listed below in
alphabetical order
. Enjoy reading!
LCD Soundsystem - This Is Happening
James Murphy and company plugged in a familiar formula while making LCD Soundsystem's third album,
This Is Happening
: nine songs, several of which pass the 7-minute mark, lots of emotion and lots of dancing. That formula worked wonders for their 2007 masterpiece
Sound of Silver
and it worked again for their hotly anticipated follow-up. As if it wasn't already well known before,
This Is Happening
solidified James Murphy as a truly once-in-a-generation songwriting talent. And Murphy sings every one of those words with such conviction that every moment on the album seems like his entire life had been building up to creating this choice record.
WATCH: The excellent video to
This Is Happening
's lead single "Drunk Girls" (deep stuff):
Joanna Newsom - Have One On Me
Joanna Newsom followed up her five song, fifty-five minute 2006 stunner
Ys
with
Have One On Me
, a sprawling masterpiece spread across three discs and two hours. It's a grand scale that is rarely matched or surpassed by any other musician these days, and she makes every second count. Every song has the scope and appeal of a classical symphony combined with the playfulness of a traditional folk song. The melodies and arrangements are all gorgeous, Newsom's voice sounds as powerful as ever, and there's a certain hint of a glowing melancholy that keeps the listener intrigued throughout all two hours of music.
LISTEN:
Have One On Me
's aching and haunting closer "Does Not Suffice":
Suckers - Wild Smile
Dramatic vocal arrangements, stellar song writing, tunes that weave through your spirit and won't let go, Suckers delivered one of the most magical journey's one could experience in 2010. Track for track
Wild Smile
is inspiring, layered with exuberant emotional textures,
preaching to the choir
chorus-flourishes, and spot on production. Suckers have captured a brilliant vibe on
Wild Smile
that has been playing through our house speakers on a weekly basis since it's release. After countless listens FYM is still infatuated with it.
It Gets Your Body Movin'
(as heard below) is a soul shaking wall of endless sonic procurement. But the song is merely a brush stroke, found on a large canvas of artfully crafted tunes (all of which go into making this record so tremendous). Thanks to the Suckers for releasing such an enjoyable album to listen to.
Wild Smile
is stunning and original, standing along with the best in 2010.
WATCH: "It Gets Your Body Movin'":
Now we present the remaining 27 albums of our 30 Best Albums of 2010. Hopefully you'll be able to discover some music that you might have missed out on throughout the year. Agree or Disagree with our choices- Let us know what you think in the comments section below.
Abe Vigoda - Crush
Intriguing as it is, the chaotic, noisy punk rock that Abe Vigoda established themselves with is something very difficult to keep fresh album after album. In 2010, the Los Angeles punks threw in some Microkorg synth, electronic dance beats, and lengthier running times for songs, and the result was the excellent
Crush
.
Crush
is a bit of a left turn for the band and a successful reinvention of their sound that acts as a very welcome step in the right direction. Songs like "Throwing Shade" and "Repeating Angel" are almost unexpected pop gems that garnered many repeat plays for most of the second half of 2010.
WATCH: The video for the concurrently jangly and danceable
Crush
single "Throwing Shade":
Admiral Radley - I Heart California
Former Grandaddy frontman Jason Lytle (who put out a rad solo album in 2009) headed back home to California from his current digs in Montana, called up a former bandmate and some friends in Earlimart and put out
I Heart California
under the group name Admiral Radley.
I Heart California
is a perfect amalgamation of the two aforementioned bands' sounds and provided some of the best songs of the year, such as the title track "I Heart California", the beautifully crushing "I Left U Cuz I Luft You", and the appropriately pounding "I'm All Fucked On Beer".
LISTEN: The strangely anthemic title track "I Heart California":
Arcade Fire - The Suburbs
Arcade Fire are just making it look easy at this point. They put out an album, it automatically gets put on everyone's Best-of lists at the end of the year (AND gets nominated for the Album of the Year at the Grammys). They put on a concert, and it's so good that it's basically a
religious experience
. On
The Suburbs
, Arcade Fire got a little more conceptual and even a little electronic (noticeable synths flourish here and there on the album). In the end,
The Suburbs
is classic Arcade Fire: an album that sound as important as it does groundbreaking.
WATCH: Speaking of groundbreaking, watch the interactive video to
The Suburbs
highlight "We Used to Wait" (create your own version
HERE
):
Autolux - Transit Transit
Six years in the making, the Los Angeles shoegaze trio did not disappoint with their
Future Perfect
follow-up. Autolux nail their signature moody science-fiction rock just about as well as they did the first time around. They still sound like a crew hopelessly lost in space centuries in the future but seemingly at peace with that situation. Few other albums released this year sound so modern and ahead of its time as
Transit Transit
.
LISTEN: The piano ballad from outer space, "Spots":
Beach House - Teen Dream
Easily the best and most important album released this year featuring the words 'teen' and 'dream' in its title.
Teen Dream
is a classically honest record: Beach House don't have any tricks up their sleeves and they're not big on special effects or grandiose statements. They simply deliver pitch-perfect verse-chorus-verse songs complete with memorably soaring melodies and engaging lyrics, coupled with Victoria Legrand's one-of-a-kind alluringly husky voice. They are they upmost professional pop songwriters and
Teen Dream
is their most shining work.
WATCH: A performance of
Teen Dream
standout "Walk in the Park":
Best Coast - Crazy For You
2010 was pretty much The Year of Best Coast + Wavves + Snacks, wasn't it? Bethany and Bobb rolled into the year on a string of singles and EPs featuring some lo-fi, fuzzed-out gems and poured that momentum into
Crazy For You
. 12 great, simple songs (well, 13 if you count the bonus track), NO filler. Lyrics simple enough that anyone can relate too without it becoming novelty.
Crazy For You
is perfect for the ladies, because Bethany is so refreshingly relatable, and also equally for the guys, because basically all guys can't resist a funny, cat-loving, cute stoner girl.
WATCH: The
Quinceañera-themed video for Crazy For You opener
"Boyfriend":
The Black Keys - Brothers
The TV commercials, sold out shows, and ample success found in 2010 for these Ohio natives makes sense. After all,
Dan Auerbach and Patrick Carney
have worked/toured/rocked extremely hard the past few years to get to such a place. Setting the bar high on Brothers, The Black Keys deliver more contemporary takes on an old genre, that never tires to play/hear.
This is the Keys moment to shine, with groove driven muddy guitars, and soul drenched working-man vocal bliss, Brothers makes for perfect hazy listening pleasure.
WATCH: The great, amusing video for
Brothers
' "Tighten Up":
Broken Social Scene - Forgiveness Rock Record
Broken Social Scene come back with possibly their strongest release since 2003's Masterpiece
You Forgot It in People
. On
Forgiveness Rock Record
the Canadian collective releases a stunning set
of atmospheric sound, and unabashed loyalty to creating great tunes. It's loose and layered, stoney and boney, with freedom untainted (humor and heartbreak often found in the same melody). These guys don't just write music, they create sonic plateaus of contemplation.
Forgiveness Rock Record
is the perfect album to play just as the choices made earlier in the evening, begin to take effect on your brain.
If you haven't heard their towering presence live, you need to (it's not just a day job for them).
LISTEN to this floaty burner: "Word Sick"
Crystal Castles - Crystal Castles
Crystal Castles follow up their hugely popular debut with more music that sounds like the soundtrack to a dangerous night out on the town. The second installment of
Crystal Castles
, the Canadian electronic duo keep the frenzied pace of the original, but this time they let it grow into a series of the most fulfilling, well-rounded pop songs of the year.
WATCH: The video for "Celestica", a strong contender for song of the year:
Deerhunter - Halcyon Digest
Bradford Cox keeps releasing music at a torrid pace, and he's on quite the roll these days by following up last year's excellent Atlas Sound album (
Logos
) with this Deerhunter album. Cox is the very definition of a professional songwriter, and every one of these songs on
Halcyon Digest
has its own personality and unique feel, from the insanely catchy "Revival" to the long, strange ultimately haunting trip that is the Jay Reatard tribute "He Would Have Laughed". Lately, despite the quantity, Cox has managed to keep the quality extremely high.
WATCH: The music video for
Halcyon Digest
single "Helicopter":
Delorean's
Subiza
is difficult to classify as a genre but easy to recognize that a lot of hard work went into creating melodies this catchy. From start to finish, the level of energy is steady and never lets up. It's one of those perfect albums you can just throw on at a party and it lights up any room.
WATCH: The video for opening track "Stay Close":
Free Energy - Stuck On Nothing
Free Energy blazed into 2010 with their DFA Debut
Stuck On Nothing.
The album is a rare-breed of fist-pumping
rockers laced with optimism and the kinetic charm. It's fighting music for
rival schools squaring off at the video arcade while besting each others Donkey Kong scores
. Free Energy are timely thoughtful scholars of vintage sound,
and produce a unique vibe all their own on Stuck On Nothing. We can't let go of this one. FYM likes this record so much we even have it on cassette. They broadcast hope, and provide remedy towards our fever for more cowbell, as found below.
WATCH: "Free Energy"
Is it weird to think of a Girl Talk album as 'experimental'? Is that even possible? Even though the formula is the same, it does seem like Gregg Gillis was feeling a bit experimental when he made every single track on
All Day
stretch past the five and even six minute mark. That effect gives
All Day
a certain epic quality, but in the end it has the same result: yet another masterful mash-up of music from all corners of pop.
LISTEN: At one point, "Make Me Wanna" goes from sampling Arcade Fire's 'Wake Up' into a mix of Radiohead's "Idioteque" and Van Halen's "Eruption":
Girls - Broken Dreams Club
2009's
Album
was the best old-fashioned guitar/bass/drums/vocals rock & roll records to be released in what seemed like forever. San Francisco's Girls followed that up this year with this (almost) surprise EP that will almost certainly serve as a connection line to a 2011 LP.
Broken Dreams Club
consists of songs that Girls have been playing live for a while now and some new ones, and like
Album
, they make the classic rock & roll sound feel startlingly fresh again. Blame that one on co-frontman Christopher Owens, who is rapidly becoming a pivotal songwriter of our generation.
LISTEN: The steady and honest "Carolina":
Gorillaz - Plastic Beach
Who expected the best pop album of 2010 and beyond to come from Gorillaz? The Damon Albarn project usually took about five years to release an album that that was always fun, but nothing really spectacular. So when Plastic Beach arrived early this year, most people who completely caught off guard when it turned out to be such a beauty with stunning depth. Every song is a different genre (from the heavenly pop of "On Melancholy Hill" and "Empire Ants" to the slick hip hop of "Sweepstakes" and "Super Fast Jellyfish") and the cameos (Snoop Dogg, Lou Reed, Mos Def) never seem out of place. For a man with a million projects, this may very well go down as being Albarn's magnum opus.
WATCH: The video for one of the best songs of 2010, "On Melancholy Hill":
Grinderman - Grinderman 2
Grinderman (Nick Cave and company) are back again with more searing midnight movie music. Grinderman 2 is dirty, extreme, blues-fueled, raw rock n' roll. Nick Cave delivers dusty sex-laced lyrical flourishes, as found in
Heathen Child,
composing
stories of dark frustrations, sung with confident descriptive prowess. Grinderman 2 is preachy, wailing, feedback-filled, and genius. This record will leave you stunned with rock lock jaw (for at least a few hours).
LISTEN: One of
Grinderman 2
's more radio-friendly songs, "Palaces of Montezuma":
No Age - Everything In Between
Two guys. Two instruments. Tons of variety. No Age pull off sounds that bands with more than double the musicians can't handle. Everything In Between jumps from hazy noise ("Katerpillar") to quirky guitar pop ("Chem Trails") and to blissful ambiance ("Positive Amputation"). Everything In Between is one of these records that can bring the people together: enough experimentation for the artsy crowd, and enough verses, choruses, and hard-hit drums for the punk kids.
LISTEN: Equal parts guitar feedback and excellent vocal melody, Kurt Cobain would have been way into "Glitter":
Trent Reznor & Atticus Ross - The Social Network
A hypermodern film requires a hypermodern score, and Trent Reznor and Atticus Ross provide just that. Their score for The Social Network sounds almost futuristic, similar to the way Vangelis' score to Blade Runner must've sounded in the early 80's. Every piece of this brilliant ambient-electronic soundtrack sounds as simultaneously focus, alienated, and lonely as the characters in the film. An Oscar snub for Best Original Score would be criminal.
LISTEN: The gorgeous piece that accompanied the opening credits that featured Jesse Eisenberg running across the Harvard campus, "Hand Covers Bruise":
This is no exaggeration: Robyn is the best pop star in the world. She's the best pop star with short blonde hair. She's the best pop star who had a duet with Snoop Dogg this year. She is everything the world demands in a pop megastar. The look, the style, and most importantly: the songs. It's a shame that she isn't selling millions upon millions of records, but we can guarantee that Robyn is no flavor of a (albeit very long) week. These songs on
Body Talk
, most of which pulled from all
three
of Robyn's equally excellent album she released this year have more staying power and more talent behind them all the Gagas and Perrys of this world combined.
WATCH: The video for the modern classic "Dancing On My Own":
Scissor Sisters - Night Work
If someone from small town America were to ask you what it's like to go to a gay disco, you would tell them to listen to Night Work to get the answer. Falsettos that fly over your head like a boa that Jake Shears is wearing hit at an incredible pace. This album just oozes music that you can create a brand new dance move to. Right when you think it's all dance and no slow dances, they turn on your head. It's perfect.
WATCH: The video for
Night Work
's "Fire With Fire":
Sleigh Bells' Alexis Krauss emerged this year as a dynamite frontwoman, getting what were probably countless creepy lust-filled stares from guys (and very likely many girls) across the world on tour this year. Her teaming up with gifted songwriter Derek E. Miller led to
Treats
, a very unique pop-metal album filled with more memorable pop-metal jams than you can find in a dive bar's jukebox. It's a simple concept:
very fucking loud
guitars + infectious preprogrammed dance beats + sexy singer = overwhelming addictive album.
WATCH: The flashy, sexy video for "Infinity Guitars":
Sufjan Stevens - The Age of Adz
Most people were completely thrown off by Sufjan's foray into electronics, but those who have been listening closely shouldn't have been too surprised. Last year, on the AIDS-benefitting compilation album
Dark Was the Night
, Sufjan contributed an amazing 10+ minute electronic cover of Castanets' "You Are the Blood". Many people hoped for a album-length helping of this new Sufjan sound, and this year we were given just that. It seemed that many of the same people who wanted a full-length electronic album from Sufjan cried foul at
The Age of Adz,
but, even though it did come as a bit of a shock, Sufjan's first full-length LP since 2005 is arguably the best album he's ever released not named
Illinois
. The epic scope of the album and the piercingly sentimental lyrics are pure Sufjan staples and they are both found all over this album. For most people,
The Age of Adz
will probably be the definition of a "grower", as the songs on here are simply too good to be brushed off forever.
LISTEN: The cinematic and explosive "Age of Adz":
Not only did Vampire Weekend avoid the costly sophomore slump that has doomed so many other similarly super-hyped bands in the past, but they delivered a follow-up album that pretty easily trumped the debut. On Contra, the New Yorkers carefully built on the sound of their debut album with a little experimentation, but not too much. The result kept listeners very satisfied and, barring a Strokes-esque third album meltdown, provided am excellent stepping stone for what should be a great part three.
WATCH: The star-studded video for "Giving Up the Gun":
Wavves - King of the Beach
Animal Collective goes to Warped Tour! Wavves' Nathan Williams kind of had a hell of a year. He sealed the deal with that cute girl-from-next-door who smokes pot and makes cool music, recruited Jay Reatard's former bandmates, apparently recorded something with Freddy Gibbs, got arrested in Germany by a cop wearing a Metallica badge, sold official Wavves weed grinders, opened for Phoenix at Madison Square Garden (the show where Daft Punk showed up), and, oh yeah, released a really rad album called
King of the Beach
: the most fun 37 minute long 'fuck you' to the haters (apparently there are quite a few) and, to paraphrase Lil' Wayne, got-so-high-I'm-seeing-spaceships trip you'll hear this year. If that makes sense.
WATCH: The video for "Post Acid", or, as Williams called it at FYF Fest, the song that's "about soda":
Kanye West - My Beautiful Dark Twisted Fantasy
Have you read a negative review of this album
anywhere
?? There isn't much left to be said about how seminal
My Beautiful Dark Twisted Fantasy
is that hasn't been said a hundred times by now. Not since Radiohead's
Kid A
has there been an album so hyped beyond belief that it was widely assumed it would do nothing but disappoint. But like Radiohead's masterpiece that kicked off the previous decade, Kanye silenced the non-believers with his own magnum opus that jump started our new decade. Most rappers begin to grow stale at this point in their career, but
My Beautiful Dark Twisted Fantasy
sounds like the rebirth of an artist. Who knows where he'll go from here?
LISTEN: Kanye and his psychological warfare followed by an amazing Chris Rock skit on "Blame Game":
Wolf Parade - Expo 86
Wolf Parade's third album Expo 86 is another emotionally charged sonic spectacle. Spencer Kurg and Dan Boeckner battle back and forth - song after song, trading vocal/songwriting duties in a dizzying exposition of how extremely f-ing (fucking) talented these guys are. Wolf Parade have yet to release a bad record. Expo 86 will take you through a gamut of emotional nostalgia, it's risky business music.
Wolf Parade create intense musical landscapes for dreamers. It's the lonely drinking music that can get you through the night, or an entire summer away from your lover.
WATCH: "Yulia"
Zola Jesus - Stridulum II
This European-only release is essentially a combination of a couple of EPs, but it makes for one of the best, most original album-length releases of 2010. There is no other voice that emerged in 2010 quite like the one that comes from Nika Roza Danilova. Just 21 years old, the Los Angeles resident has a voice so haunting that it feels like it's seen a century's worth of sorrow. But despite the gloom and doom laced in the dire arrangements, Danilova knows how to plant some warmth in her songs, most especially on the strangely comforting "I Can't Stand". Zola Jesus' potential is limitless and Danilova seems to have the creative arsenal to keep making remarkable music for a long time.
WATCH: The ghostly video for the majestic "Sea Talk":